In keeping with its aggressive exploration programme, ExxonMobil's subsidiary, Esso Exploration and Production Guyana Ltd (EEPGL) is set for drilling at a new site called Sorubim which is northwest of its famous Liza find.
According to advertisements in today's Stabroek News by the Maritime Administration Department, drilling at the Sorubim-1 well site will be done by the vessel, Noble Bob Douglas on March 30.
The vessel would be positioned in a staging area five days prior to the start of  drilling. The drill site and the offshoring staging area are approximately 83 nautical miles and 53 nautical miles respectively from the coast of Guyana. This would be closer to the coast than previous wells. Sorubim covers an area of four square kilometres by two square kilometres.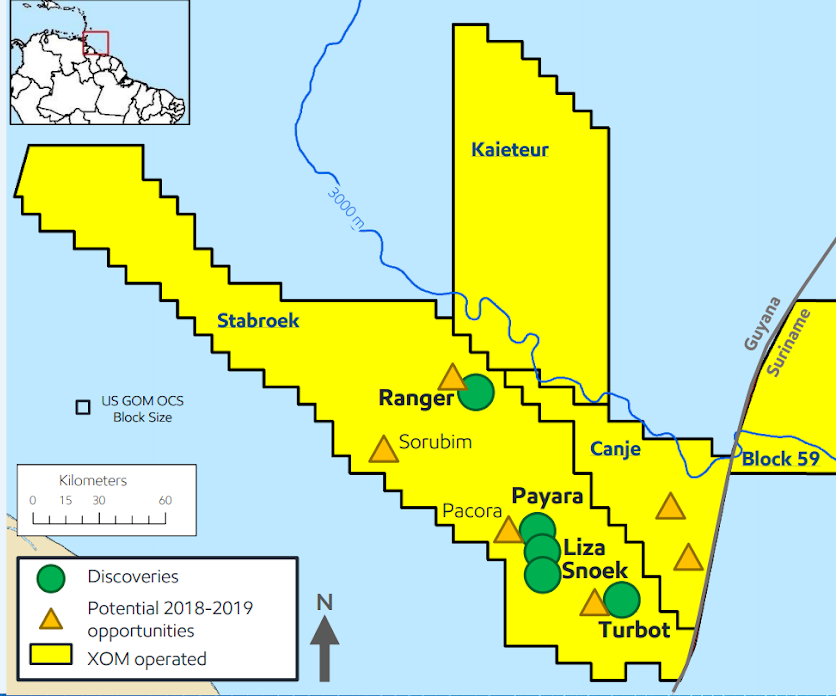 Just days after its 7th major oil find in the Stabroek Block offshore, ExxonMobil's subsidiary had announced in March 2 that it is set to begin drilling at another site.
In a notice in the March 2nd Stabroek News, the Harbour Master said that EE&PGL would on March 7th begin drilling for a three-month period at the Liza-5 well site.
The drill site is around 108.2 nautical miles from the coast of Guyana.
It would mean that ExxonMobil has two drilling operations going on simultaneously  in Guyana's waters for the first time.
When it announced on February 28 that it had found oil at the Pacora-1 site in the Stabroek Block, Exxon said that the Stena Carron drillship would move to the Liza field to drill the Liza-5 well and complete a well test, which will be used to assess concepts for the Payara development. Payara is one of the well sites where oil was found.
ExxonMobil announced project sanctioning for the Liza phase one development in June 2017. Following Liza-5, the Stena Carron will conduct additional exploration and appraisal drilling on the block.
The Stabroek Block is 6.6 million acres (26,800 square kilometers). EE&PGL is operator and holds 45 percent interest in the Stabroek Block. Hess Guyana Exploration Ltd. holds 30 percent interest and CNOOC Nexen Petroleum Guyana Limited holds 25 percent interest.
Around the Web