Government pathologist Dr Nehaul Singh yesterday criticised the procedure used to remove the remains of the eight miners killed in the 2008 at Lindo Creek, while stating that they should have been separated as much as possible to make for better analysis.
Singh testified at yesterday's public hearing of the Commission of Inquiry (CoI) established to investigate the killings, which is being held at the Department of Public Service on Waterloo Street.
A witness testified at the last hearing that Dr Singh had accompanied a group of joint services officers to Lindo Creek, led by Courtney Wong, brother of one of the slain miners, Clifton Wong.
Wong had told the commission that Dr Singh, along with senior officers, had opted to stay behind at the old mining camp as the rest of the team traveled uphill to where the new camp was located, as the journey to Lindo Creek had been taxing. Singh had, however, reportedly sent ahead his pathologist team.
"You gotta be very careful. I mean, this is what's called disaster management. You need to know what you are doing…eight people are there, you gotta be careful how you are removing these things. The problem is, you need to get it separated as much as possible. You just can't go and scoop them up and put them in a bag and bring them. We're not selling mango or whatever it is," Singh told the commission yesterday.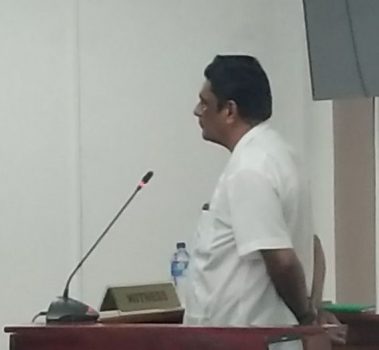 He explained that if he had been there, he would have separated the bones as much as possible, opining that there must have been an outline of the bodies, unless they were completely burnt.
Singh acknowledged, however, that he had only seen photos of the remains after the team returned.
Singh suggested that it would have also been better if a forensic anthropologist had been brought in, while relating that he had recommended such to then Commissioner of Police Henry Greene, and even indicated that he knew someone that was willing to assist, but he was never taken up on the offer.
Courtney Wong, who continued giving evidence yesterday, had testified last week that when they found the remains in the sleeping area of the camp, it had appeared, from the way the bones were arranged, that the bodies were stacked on top of each other.
"…In sorting out the remains, we realised that we have to move them from there and place them somewhere else. So, we went to the kitchen and we took off the tarpaulin from the kitchen… And we fold the tarpaulin in half and put it next to the remains. And we started to take out shoulder bones, discs, you know—all the big bones that remained, that the fire could not have burnt to ash," Wong had related.
Though Wong had testified that only himself and members of Singh's team had handled the remains, Clensford Burnett, a former Detective in the Guyana Police Force, had also recalled putting on protective gear and scooping up the remains by hand before placing it on a polythene tarpaulin and wrapping it.
It was Dr Singh's testimony that he was initially asked to perform the post-mortem examination on the remains. He stated that the coroner's orders had already been prepared (although he did not read them) and plans were being made for him to return to Lindo Creek the following day. Those plans were, however, deferred and he later heard on the news that all the bones had already been removed from the camp.
Days after they returned from Lindo Creek, Singh said Commissioner Greene called and informed him that the government would be flying in a forensics team from Jamaica to carry out the autopsy.
The pathologist stated that he indicated at that time that he would not be observing the process, before later admitting to the Commissioner that while he is willing to work with anyone, he would not be "subservient" to anybody.
Singh said that he was never contacted subsequently to conduct an independent autopsy and neither did he ever see the results of the examination.
Also testifying yesterday was Rhonda Hutson, the niece of Compton Speirs, who gave  emotional testimony in which she attempted to put into words the pain relatives have experienced in the time since the deaths of their loved ones. "He didn't deserve a death like that… all we have is memory, the good times… I keep thinking [about] how it happened…It's hurtful, it's painful, for all of us," she got out between sobs.
Burnt human bones and skulls had been discovered on June 21st, 2008 by Leonard Arokium, owner of the Lindo Creek mining camp. DNA tests done in Jamaica several years later confirmed that the remains had belonged to his son Dax Arokium, his brother Cedric and workers Compton Speirs, Horace Drakes, Clifton Wong, Lancelot Lee, Bonny Harry and Nigel Torres.
The eight men were mining for diamonds at the location when they met their gruesome deaths, sometime between June 9th and June 10th. After the miners were slaughtered, their bodies and belongings were burnt. They had reportedly had a 'wash down' (large find) yet there were no traces of any diamonds.
The public hearings are set to continue next Tuesday at 1.30 pm.
Around the Web