Ninety-eight new police officers were on Wednesday urged to always display high moral and ethical standards and not to abuse their power.
Assistant Commissio-ner of Police and Force Finance Officer Nigel Hoppie delivered the charge to the new ranks at a passing out parade for the graduates of Recruit Courses 363 to 366, which was held at the Tactical Services Unit Drill Square, Eve Leary.
The parade was held under the theme 'Forging ahead with professionalism and intelligence-led policing in collaboration with stakeholders.'
Training commenced on September 6th last year and saw ranks from the various divisions participating in courses that included practices and procedure of self-defence, first aid, stress, anger management, communication skills, English language, human rights in policing, domestic violence and basic capacity building.
They were also educated on crime, traffic, information technology and other essential aspects in policing to fully equip them for their life of service to the country.
Hoppie told the ranks that their success upon completing their training is an indication that they are committed and steadfast to the call and that they have overcome any challenges that may have confronted them.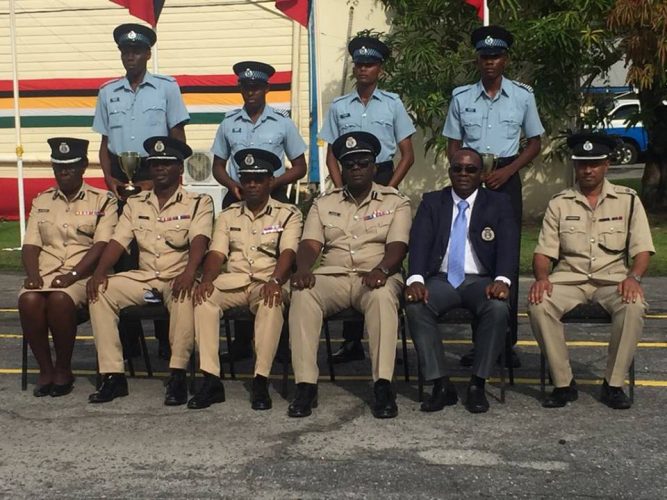 "You have completed the transformation from citizens to law enforcement officers. You have passed the enlistment segment, survived the physical and mental training of the college life, sacrificed a lot over the last four plus months and successfully arrived at this moment of your life," Hoppie said, while congratulating the graduates.
"Remember, you are required to display high moral and ethical standards at all times and not just be policemen only in uniforms. Your role is to serve and protect the citizens of this country and not to abuse power," he warned.
Hoppie also reminded them that as the new generation of police officers they will face moral challenges and high public expectations but they are expected to display professionalism and dedication at all times during the execution of their duties. "From this point forward until the day you leave this job, you will be in the public eyes. Subject to constant comments, every action you take or don't take will be subject to intense scrutiny. It is just a fact from now on," he noted.
He urged them to remember the oath they took to serve and protect the citizens of this country. "This must always be in the forefront of your mind. Avoid temptation and remain honest when carrying out your function," he added.
Hoppie also encouraged the new ranks to take every opportunity to enrich their knowledge. The Guyana Police Force, he said is constantly reviewing the gap of knowledge, skills and abilities to address organisational needs and individual weaknesses and to conduct and sustain training which results in improved on-the-job performances.
"These are established keys to ensure learning is transferred to your job environment after training," he said, while adding, "this is so critical since we as members of the Guyana Police Force are under constant scrutiny from members of the public [and] are held accountable for others' actions and I dare say inactions."
Hoppie further told the ranks that they need to understand that the job comprised people with an "infinite" variety of attitudes and dispositions. "This will often be as various as yours, hence the need to display a level of professionalism that is in keeping with a modern police force," he said.
"Never take actions based on emotions. What you do will have lifelong consequences to citizens you have to deal with," he warned while requesting that the new officers keep in mind that policing is a service profession and it is their responsibility to protect and serve.
"The nature of your job requires commitment and dedication at all times. Your job is not just a normal training service job and sometimes you may find yourself waking up long before everyone else and retiring to bed long after everyone else," he explained.
"Remember to maintain good living habits and work life balance to keep both physical and mental health, while seeking continuous self-improvement in the professional field and enhancing personal competitiveness," he further said.
Hoppie told the new officers that one of the fundamental keys to successful law enforcement is good community relations to develop trust between police and citizens. He said without this trust, police work becomes much less effective.
He also told the graduates that the force has been working together with communities on social projects and they are required to ensure that this initiative is maintained.
According to Hoppie, the force has embarked upon another initiative of team policing. The aim of this approach, he said, is to deliver 24-hours support service to communities and to provide services unique to the assigned communities, with improved satisfaction of policing services.
"I charge you to serve with dignity and uptightness so that to set a fine explore to those that aspire to join the Guyana Police Force and to create that environment to encourage others willing to serve in the same capacity that you do," he said.
Also in attendance at the passing out parade were several senior and junior officers of the Guyana Police Force, including Senior Superintendent Fazil Karimbaksh, Assistant Commissioner (Operations) Clifton Hicken, Assistant Commissioner Maxine Graham, Crime Chief Paul Williams and Divisional Commanders.
Prizes were awarded to the outstanding graduates of each course.
For recruit course 363, Constable 24558 Browne received the award for best student. Constable 24595 Herod was named best student for recruit course 364, while Constables 24609 Lall and Constable 24856 Halley were named best students for recruit courses 365 and 366, respectively.
Around the Web