The upcoming second "UncappeD Marketplace," an agricultural exhibition and food festival, will see the launch of countrywide opportunities for agro-processors to sell their goods and Business Minister Dominic Gaskin underlined the priority being given to the sector even in the wake of the nascent oil economy.
Officially launched yesterday at a ceremony held outside of the Guyana Marketing Corporation on Robb Street, this year's event will culminate with a family fun day and food festival to be held at the National Stadium on April 29th. It is expected that throughout the rest of the year, the exhibitors will showcase their products in other regions.
This year's event is free, both for participating vendors and patrons. It will begin at 10 am and conclude at 8 pm.
Marketed simply as "UncappeD" last year, this year's expo is expected to move beyond simply showcasing products to providing capacity building for agro processors, in anticipation of a trade show to be held later this year, which will expose them to overseas markets.
According to Vice-President of the Guyana Manufacturing and Services Association (GM&SA) Ramsay Ali, they are expecting between 50 and 60 exhibitors this year, judging from last year's figure. The last exhibition reportedly attracted over 5,000 patrons over the three-day-period. Questions had been raised about the substantive benefits flowing from last year's event.
During his address, Ali lauded the first instalment of the expo, sharing some of its impacts, which he said included a significant increases in business activity within retail stores for several participants, and at least one known producer being able to gain access to the overseas market as a result.
That producer, Sandra Craig, owner of SS Natural Fruit Flavour BBQ Sauce, delivered remarks during yesterday's programme.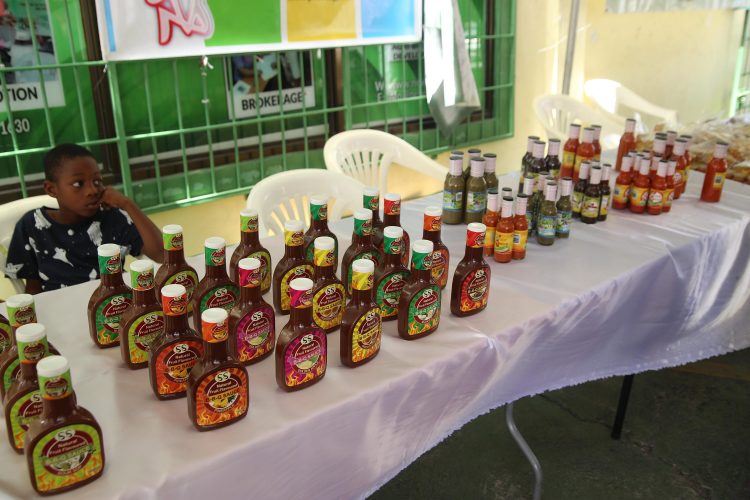 Craig explained how being involved in the cooking business had inspired her to start creating her own sauces, rather than depending on imported products. There are now seven flavours of BBQ sauce in the product line.
"My product has been accepted nationally and internationally. Today's date, my products have been on show at Carifesta in Barbados, Canada 150th anniversary celebration in Ottawa, GuyExpo, UncappeD and Sonia Noel's [Women] in Business [expo], all of which helped me to showcase my brand," she related, while noting that she had also been honoured by the GM&SA in recognition of a "pioneer spirit of product."
"Attending UncappeD has helped me to showcase my product to [Guyanese] people, which has inspired me to work harder to develop my brand. I wish to encourage others to be a part of this event, being aware of the high quality of local product that [Guyanese] producers have to offer," Craig added.
Meanwhile, Minister of Business Gaskin made a call for Guyanese to support local manufacturers by being "more conscious in the way we consume."
"The more local products that we consume, the more we support our local industries and the more we help in job creation and in poverty alleviation," he advised.
He noted that as it relates to the producer, there is much work left to be done in terms of the provision of training on accessing markets and distribution networks, as well as taking advantage of bilateral agreements that the country has signed on to.
"…It's important to note that our government sees the agriculture and agro-processing sectors as priority sectors because we too understand that long after the oil has been extracted and there's no more left, we still need to eat and we still need to feed others. So, it's an important sector for us and government has been supporting the sector in many ways, including through the Guyana Marketing Corporation, which is doing a great job in promoting local agro processors," Gaskin remarked.
ExxonMobil's, Kimberly Brasington, Senior Director of Public and Government Affairs, appeared on behalf of the company, to relate the eagerness of the team to be playing a part in supporting such an important sector. ExxonMobil is one of the sponsors of the event.
"I'm very fortunate and proud that we have opportunities to be a part of that and make things like this happen and make them not just affordable but free for the public to participate in and vendors to participate in. And so we're happy to be in Guyana and be a part of the growth and are absolutely committed to supporting what really is the backbone of this country," Brasington stated.
Around the Web