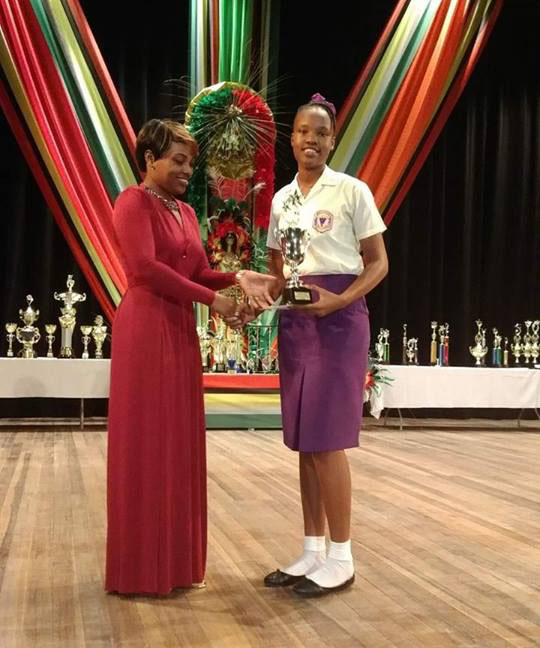 This year's winner of the Mash 2018 Republic of Guyana Essay Writing Competition, President's College student Romelia Hughes, said that there was a time when she "could not write to save my life."
Shortly after she read her winning essay, which she did eloquently at the National Museum, according to her English teacher and acting Head of the School's English Department Tamika Wilson, Hughes was still beaming when she met up with the Sunday Stabroek.
"In primary school, I could not write at all to save my life. In secondary school, it was not until [I was] in form three that I said let me see how it goes and I decided to try out in the school's essay competition and I came out successful," the fourth former said.
The essay competition she spoke of was the Peace Essay Competition, which was launched in 2015 by one of the school's alumni Iana Seales to encourage new writing skills and "stimulate ideas from our young people on how to build more peaceful societies." The competition coincides with World Peace Day, September 21, which incidentally is Seales's birth anniversary. Seales is a former journalist of this newspaper.
Wilson related that recently the school made the competition a compulsory part of students' course work in order to have more participation.
Hughes was one of the more than 89 students who entered last year's competition. She related that she wrote about what peace means to her and what it means to be peaceful and was surprised when her piece was adjudged first in the senior category. Copping the winning spot meant that she received a small monetary prize.
Wilson, who was present during the interview, recalled that Hughes barely edged out the second-place student, a boy. She said they were both good.
A science student, Hughes, with the help of her teacher, then decided to enter the national competition and she relied on her Food and Nutrition project which focused on how using renewable resources will reduce the amount of air pollution in Guyana. The 438-word essay zeroed in on how using local foods will benefit Guyana's society which will result in reducing pollution and making Guyana a "greener economy."
Her teacher recalled that they got the notice of the competition late and they had to ask for a few more hours to prepare which meant that they were up until around 5 am on the day of the deadline.
"The journey was rocky, but it was a good one," she said.
And Hughes is not done as she will be participating in the Indigenous People's Commission easy competition, which focuses on examining the Amerindian Act. This competition is in April.
She is not the only President's College student who did well at the recent competition, Enoch Allicock came second in the 18-25 category and another student, Tomika Bryne, was third at another national competition recently.
"In one week we have had three students doing first second and third. We are very proud," the beaming teacher said.
"We are looking to see how much more we can motivate, we have used them [those who did well] to motivate others and the response has been overwhelming as students are now flocking my desk," she said.
Hughes said reading has always been her passion and she is also part of the school's media club, even though she one day hopes to come a paediatrician.
She encouraged students to find time to read as it widens your vocabulary and they will be able to "try out new stuff. And find people who will encourage you to do whatever you want to do. The morning before we had to hand it up my essay I was in class and I was really sleepy, and it was my two friends Ruth and Kumar and who helped me, they helped to edit it and make changes."
Wilson said the response from the students, especially those who live in, like Hughes, has been incredible, "it was like the entire dorm won." The celebrants were inclusive of the house mother.
Hughes is from New Amsterdam and her parents have been very supportive and happy about her achievements, which has been a nice icing on the cake according to Wilson who said she was pleased with their response.
"Generally, children don't like to read and build their vocabulary. We are happy, we are proud of her. The department and the entire school's population are proud of her and the others. One person wins and the entire college wins," the proud teacher said.
Around the Web