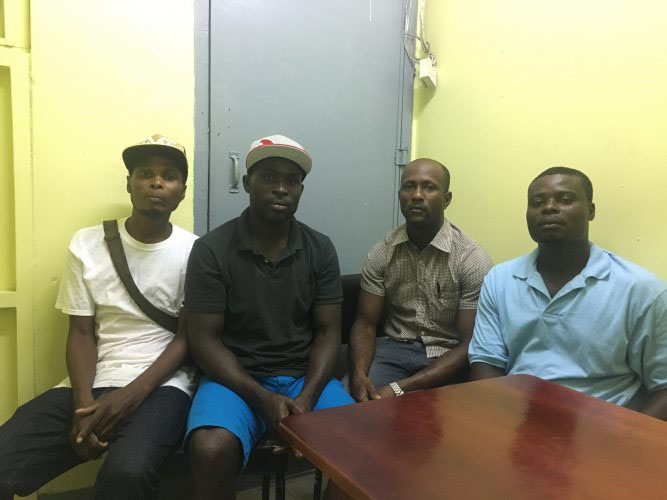 The Camp Groomes soldiers who were injured in a deadly explosion in December 2000 are expected to have a meeting with the Guyana Defence Force (GDF) on  Wednesday to discuss the matter of their compensation.
Four of the survivors had highlighted their struggles during an interview with Stabroek News in June last year, and one of them, Winston Wade, had explained that no one had contacted them about their compensation. Wade said that an officer from the Welfare Department of the GDF contacted them about once per week, but did not give any conclusive information on compensation.
Three other survivors, Colwyn Lewis, Samuel Archer, and Justin Ross, also shared similar sentiments, while making a new plea to President David Granger and all the relevant authorities to ensure that they could receive their compensation in a timely manner.
Despite appealing to the public and the government on multiple occasions, the men did not receive any conclusive feedback from anyone, including the Guyana Defence Force. However, Wade related to Stabroek News last week that they are expected to meet with the GDF on  Wednesday, and they are hoping that they will be able to make significant progress in discussing how they will receive their compensation.
Wade related that he is unsure of what the meeting with the GDF will produce, but he, along with the other survivors, who are all still having a difficult time leading a normal life due to the injuries that they suffered almost 18 years ago, said that they are hoping that they can finally reach an agreement with the GDF and by extension, the Government, where they will be able to receive some sort of compensation.
"It's not like we were on the streets or anywhere else when this thing happened. We were all on duty and it was not our fault. I joined the army at the age of 18 and all my limbs were intact and a day like today I can't do anything for myself and we are not getting help from anywhere," Lewis related, last June.
At the time, Lewis said that he and the other eight survivors were pleading with the government to intervene, since none of them had been able to find a job since the incident. The men had stated that they had been deemed "medically unfit" in 2013 by the GDF, and were subsequently released from duty.
As a result, they have been unable to find jobs elsewhere as they still have physical disabilities which prevent them from being declared fit to work. They have only been getting a pension from the National Insurance Scheme, which they say is not enough for them to survive on, and since they are unemployed, the men related that they have to live at the mercy of their respective families.
In February, 2014, the GDF, in a press release, had expressed regret for the delay in the payment of benefits to the survivors.
It was stated then that a proposal for the injured soldiers to be paid benefits as if they had already retired had been approved by the Defence Board. However, a re-computation, resulting in improved benefits for the survivors was being verified to ensure payment. "The further amendments, which were necessary to give them more money, resulted in the delay. Their benefits when paid will be effective from 2014-01-01," the release had stated.
However, since then, the men said there has been no progress in getting either compensation for either them, or the families of the soldiers who died.
Around the Web