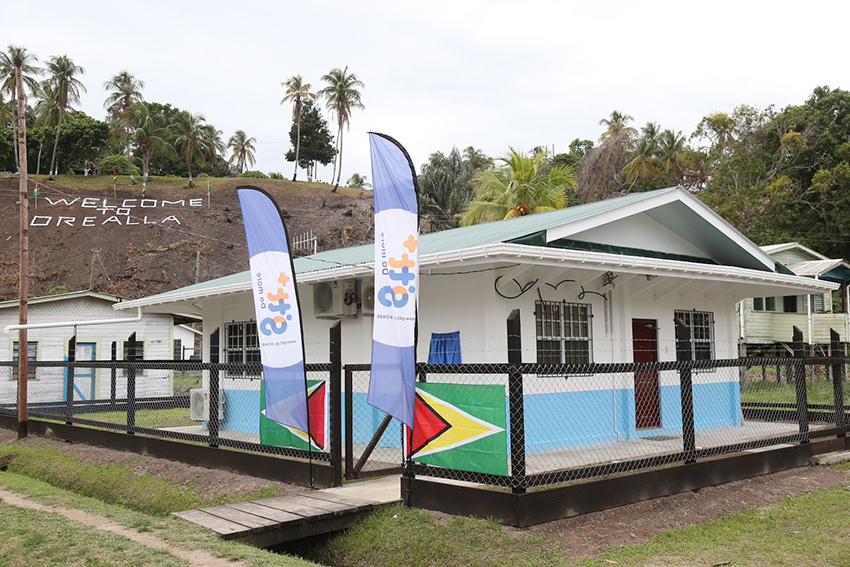 President David Granger yesterday commissioned a community radio station at Orealla, Region Six – the latest in a series across the country.
Speaking at the commissioning, the Head of State said that, "We are pursuing service to the people… This is an innovative programme and at the end of it every region is going to have a Regional Broadcasting Service Station. We are going to ensure that the entire Republic of Guyana is connected. Every Guyanese, everywhere he or she might go must be in touch with his national broadcasting service… Wherever you are in Guyana you must be able to tune to your National Broadcasting Service. Why? Because it is a public good. This service is not look after some personality or not to conduct propaganda," he said.
According to a release from the Ministry of the Presidency, he said that access to reliable and accurate public information can play a significant role transforming communities.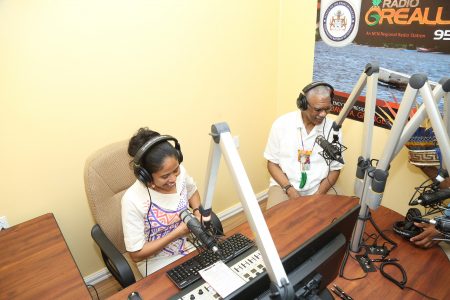 "It is impossible to overemphasise the importance of today's activity. We are bringing a means of public information into this beautiful community. This event is…is not a one-shot, it is part of a total programme that will see the entire Republic of Guyana covered with this Regional Public Broadcasting Service…We are unleashing in Orealla today, the power of radio, the power of communication," President Granger said.
Chairman of the Board of the National Communications Network (NCN), Enrico Woolford said that Radio Orealla, which will be transmitted via the 95.1FM frequency, will serve Orealla, Siparuta and other surrounding communities. The release said that he also informed that NCN is working to revitalise and reform its radio, television and online presence. He noted too, that community radio stations are meant to be exactly what the name implies, keeping the communities informed. "NCN believes in the relevance of radio for keeping people informed and connected and as a conduit to expose and display talents," he said.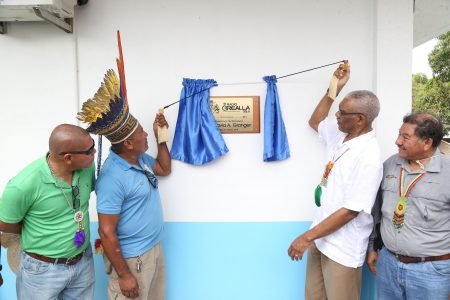 Similar sentiments were expressed by Coordinator of the Project,  Rovin Deodat.
The building that houses this new radio station is brand new. However, NCN was able to save millions as a result of a strategic partnership with the Guyana Telephone and Telegraph Company (GTT). GTT's Chief Executive Officer, Justin Nedd said that when his company was approached by the Prime Minister's Office and NCN to host the radio station's antenna on their transmission tower, they readily agreed.
GTT invested in Orealla six years ago when it first installed the tower. In 2015, significant upgrades were done at the tower, which resulted in residents of Orealla benefitting from internet access on their smartphones.
Orealla Toshao, David Henry expressed his community's appreciation to the Government for this investment, which he believes, will open doors for the youths and provide residents with the long-awaited opportunity to promote their economic and natural resources. He also said that under the current Administration, Orealla has benefitted from an extended electrification programme and extension of their playground. Additionally, they have received a grant for the construction of a new stelling and will benefit from a new water ambulance.
The advent of a radio station was welcomed by residents.  Yvette Henry described yesterday's activity as a historic occasion and urged her fellow residents to take ownership of this facility and to ensure that it is used for the benefit of all.
Thus far under the Regional Public Broadcasting Service project, Radio Aishalton, Radio Lethem, Radio Mabaruma, Radio Bartica and Radio Mahdia have already been commissioned.
After the commissioning ceremony, the release said that Granger distributed a quantity of sports gear and kites for the children.
Around the Web