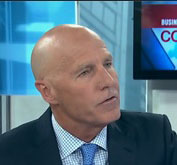 Several Canadian gold mining companies operating here have underlined plans to invest tens of millions of US dollars in expansion projects here.
The promises were restated at the Prospectors and Developers Association of Canada Convention (PDAC) held in Toronto, Canada from 4-7 March, 2018, according to a media release from the Guyana Office for Investment (GO-Invest). The annual PDAC Convention is regarded as the premier international event for Canada's mineral exploration and development industry.
Scott Caldwell, Chief Executive Officer of Guyana Goldfields Inc., the largest foreign gold mining company in Guyana, announced that the company plans to boost annual gold production to 300,000 ounces by 2022, with the introduction of underground mining, the release said. Caldwell pointed out that the Government of Guyana receives eight per cent royalty on the gold mined and added that the company has spent approximately US$50 million in the local economy over the years in the area of  goods and in services such as hauling of freight, engineering, and contract mining.
According to the GO-Invest release, Rich Munson, Chief Executive Officer of Sandsprings/ETK, which has acquired the Toroparu Gold Project, said that this undertaking is the number two ranked undeveloped project in South America. The Toroparu Gold Project is described as a world class asset with a 10 million-ounce potential gold reserve. He explained that developing a hydro-electric station known as the Kurupung River Hydroelectric Project (KRHP) will use run-of-the-river technology which requires no damming. He added that his company is mindful of Guyana's interest in hydro-electricity, and has designed the KRHP to be expanded incrementally from 50 megawatts to 100 megawatts with the aim of supplying external clients.
Yannis Tsitos, President and Director of Goldsource/Kilroy Mining, stated that his company has spent more than US$22 million in exploration and development in Guyana which he described as, "an extremely good jurisdiction," according to the GO-Invest statement. The company intends to eventually produce around one million ounces of gold, averaging between 55,000 and 75,000 ounces a year. The mining executive who has a background in bauxite mining also spoke about Guyana's high-quality bauxite which he explained yields about 62 per cent alumina when processed. "I would hope that one day Guyana can come out of the loop of being an exporter of raw bauxite by self-producing, and eventually building an alumina or even an aluminum plant," he urged.
Chief Executive Officer of Go-Invest Owen Verwey, following the event, said he was heartened by the tremendous interest shown in Guyana Mining Day 2018 in Toronto, noting that "Guyana is indeed being recognized as a world-class investment option for mining and natural resources."
Around the Web