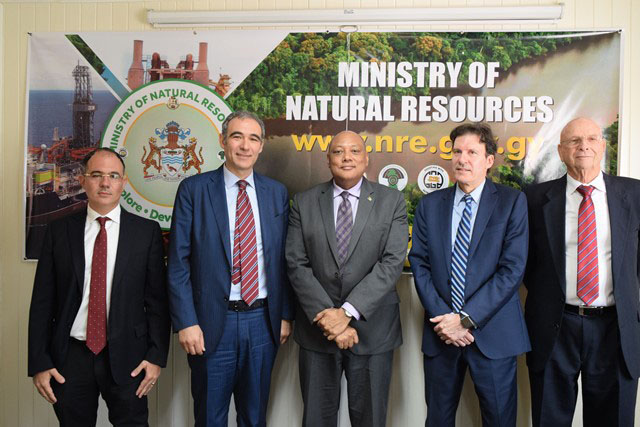 Italian oil and gas company, ENI is the latest petroleum giant to formally signal interest in drilling for oil here.
The Department of Public Information (DPI) yesterday reported on the visit of an ENI team to Minister of Natural Resources, Raphael Trotman.
ENI joins a list of others including Chevron and Petrobras interested in drilling offshore following the major oil discoveries by an ExxonMobil subsidiary in the Stabroek bloc. The government now faces searching questions on how it is going to apportion the remaining blocks, whether by direct negotiations or auctioning.
DPI said that Trotman yesterday met the company's Senior Vice President, Guido Zappala and his team at the Natural Resources Ministry, where he received a packaged plan of action from the company's representatives.
Speaking to DPI after the meeting, Trotman said the oil company had, since last year, expressed its interest to the government.
"So, we had a long discussion with them about their practices elsewhere, what they are looking for. And obviously Guyana's basin has become attractive and they have assured us that they are not worried about the current issue between Guyana and Venezuela. They are prepared to pursue and should there be any cause for concern they will manage", DPI reported.
Trotman said that ENI, which is partly owned by the Italian government, has an excellent track record in terms of safety and good environmental practices. The company, he said, has been lending its support to other countries, helping to develop their renewable energy capacity.
"Thirty percent of the shares is owned by the government. So, you actually have a company that is undergirded by the government and is a main driver of the economy of Italy," he said.
His next move, Trotman said, will be to prepare a report to present to Presi-dent David Granger for his consideration.
The company has suggested another meeting in the next two weeks.
On its website, ENI said it works in 73 different countries, with approximately 33,000 employees.  It says it carries out oil and gas exploration, development and extraction in 44 countries, trades in oil, gas, LNG and electricity in 33 countries and sells high-quality fuels and lubricants in 23 countries.
Since its foundation, in 1953, ENI says it has established very close relationships with people, who over the years developed a strong sense of belonging and pride.
Around the Web