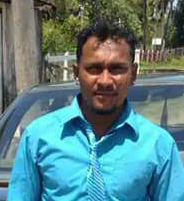 Three suspects, who lawmen were on the hunt for in relation to a recent armed robbery at Albion, Corentyne, which left a man hospitalised in the ICU at the New Amsterdam Public Hospital, turned themselves over to the police yesterday.
The three men: Matthew Ganga Prasad also known as 'Abel', 26, of Lot 95 Number 77 Village, Corentyne; Suraj Kowlessar also known as 'Ravi', 21 of Ankerville, Port Mourant and Vishal Ramdass also known as 'Michael', 20, labourer of Lot 157 Ankerville, Port Mourant turned themselves in around 4.50 pm in the presence of attorney at law, Charandass Persaud.
Commander of B Division, Lyndon Alves confirmed that as of last evening four suspects were being interrogated by investigators. Alves said, the three men who turned themselves over to police were the same persons the police were on the hunt for.
Jagdeo Ganesh, an Albion sugar estate worker remains in a critical condition in the ICU at the New Amsterdam Public Hospital after he was shot by bandits who invaded his parents' home sometime around 9 pm on Saturday.
According to relatives, Ganesh's left kidney had to be removed in an emergency surgery as it was damaged by the bullet.
The relatives last evening said his condition seems to be deteriorating, however, they are hoping for the best.
The man's father, Gangapersaud Jadoo Ganesh, also known as `Ramesh' and `Hassan', 54, a pump attendant at Albion Estate of Lot 1 High Reef, Albion Corentyne had told Stabroek News that he was in a room located in the lower flat of his house next to his kitchen with his wife, when the group of men armed with a gun, cutlasses, a piece of wood and a knife launched their attack. "When me watch through the (room) door me see them and them ask them boy how much people in the house and me son say three".
According to Ganesh, his son, Jagdeo Ganesh, also known as "Chucky", 37, grandson Aryan Ally, 15, and one of his church members Balram Lakeram, 31, were outside of the room also in the lower flat.
Ganesh had explained, that the men started to broadside all three while questioning where the 'head of the house deh'. He said, "After I see them fire the load, me brace the bedroom door and it knock one a them in he face and they fire another load and me tell me wife `hand me the thing! hand me the thing! and them run out because them mussy get frighten, but wah me get? me na get nothing".
The elder Ganesh said it was after the bandits who were heavily masked escaped that his son said, "Daddy, daddy them shoot me".
Stabroek News was told that Jagdeo was shot while he attempted to thwart the bandit armed with a gun when he attempted to break into the room in order to get to his parents.
Jagdeo, who sustained a gunshot wound to the right part of his chest, and fractures on both arms was rushed to the Port Mourant Hospital and was subsequently transferred to the New Amsterdam Public Hospital on Saturday evening, where he underwent emergency surgery.
The men who discharged a total of five rounds during the robbery escaped with $300,000 Guyana currency, US$350 and two cellular phones.
One suspect who was arrested Saturday evening a street away from the robbery confessed to robbing Ganesh and his family, as well as being a part of a group who robbed two other families, one from Port Mourant and the other from Albion, Corentyne over the last two weeks. A .32 revolver, two live rounds, four spent shells, a cutlass and two bicycles were recovered.
Around the Web