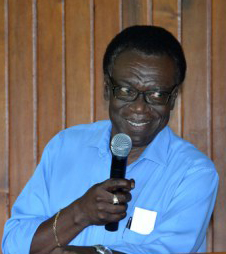 Faulty equipment and generator problems were the major causes of the Guyana Power and Light Inc. (GPL) being unable to meet its performance targets last year, according to Deputy CEO (Technical) Elwyn Marshall, who yesterday reported that customers experienced more interruptions in supply last year than in the previous year.
Marshall was at the time making a presentation to the Public Utilities Commission (PUC) on GPL's Operating Standards and Performance Targets for last year at the Cara Lodge, in Georgetown.
Addressing customer interruptions, Marshall pointed out that the company set a target of 75 for the System Average Interruption Frequency Index (SAIFI), which is the average number of interruptions that a customer would experience.
However, it reported 128 for 2017, an increase over the 2016 figure which was 118.6.
For the System Average Interruption Duration Index (SAIDI), which is the average outage duration for each customer served, the power company had set a target of 85 hours, but reported 133 hours, an increase from 2016's figure of 125.8 hours.
The company's inability to meet its targets, Marshall said, was due to "premature defects" in three of its 6.9MW generators at the Kingston Power Plant.
"These generators are approximately 10 years old and normally we would have trouble-free operations [over] 15 to 20 years by just doing basic maintenance and reinsulating. What took place in 2017 is that the alternators used on the generators at [the] Kingston two plant were not from the traditional manufacturer and we found that they developed both electrical and mechanical problems. One of the sets had to be out of operation from April to October," Marshall said, while adding that as a result they had to send the generator to Miami to have it repaired.
In addition to being without one of their generators, the company's operational capability was also affected by planned maintenance on several Warstila generators, which Marshall said could not have been avoided.
"We had eight major overhauls that were done and five of the overhauls took place during the period when the 6.9KW generator was out of service," Marshall noted, while highlighting that often during the April to October period, there was a shortfall in generating capacity by at least 13.8MW and other times at least 11.4MW.
Additionally, Marshall explained that they also had defects in the breakers for the station service transformers at the Kingston two plant. He said that the importance of the breakers was highlighted after some of their generators could not function after a single fault in the feeder, which he said should have only resulted in one feeder tripping and not the entire system going offline.
In terms of the frequency of power outages, Marshall also said that other reasons such as planned outages and transmission line trips also influenced the number. He noted that there was an average of three planned outages per month, and a total of 25 for 2017.
Smart meters
With respect to voltage regulation, GPL is still unable to monitor system disturbances for each customer. However, Marshall explained that it is making strides towards this and rolling out its smart meter technology, which will allow it to be able to monitor individual voltage level of consumers.
"We have been able to do a pilot zone in Georgetown where the smart meters have been installed. We expect that within the next three years over 80,000 smart meters, with [the] supporting infrastructure, will be installed under the PUUP [Power Utility Upgrade Programme], which is being funded by the IDB [Inter-American Development Bank] as well as GPL's meter replacement programme," he noted, while adding that the meters will allow the company to be better able to monitor and report on the voltage regulation.
He added that the smart meters will also be capable of utilising radio frequency to transmit data to the power company for analysis.
Marshall also said GPL will be embarking on rehabilitation of some 640 km of its distribution network, which will directly affect the reliability of electricity being delivered to its customers' homes and the frequency of trips that are experienced.
Because of the number of customers on some of GPL's feeders, Marshall said that it has decided to construct express feeders that will split some of the existing ones in two, which is expected to relieve certain customers from low voltage.
The power company will also embark on various capital projects aimed at improving the SAIDI and SAIFI parameters, which include the reconfiguration of feeders that come out of the Kingston plant.
"We've had both in 2017 and 2016 instances where the feeders are in such close proximity that a fault in one would result in the conductors being stretched to an extent that it comes into contact with other feeders," Marshall added, while stating that as a result GPL will be using underground cables which it hopes will help to eliminate unnecessary outages caused by feeders being too close together.
Around the Web