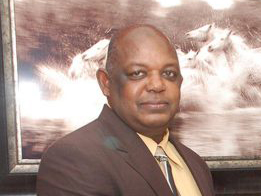 New Chief Executive Officer (CEO) of the Guyana Power and Light Inc. (GPL) Albert Gordon says that the company has a vision of enhanced performance at the level of a "world-class utility" but cautioned that it will take time.
Speaking yesterday at the Cara Lodge, where GPL reported on its performance for 2017, Gordon, who has been at the helm of the company for only two months, said there are significant infrastructural constraints that are preventing it from performing at the optimal level.
"There have been substantial improvements by the way of capital projects and changes in operations but there is still a lot more to be done and we are trying to accelerate that rate of transformation by accelerating the capital projects," he said, while noting that some of the capital projects have already been planned but the company has not been able to find funding for them.
"So, we want to get that done so we can essentially transform infrastructure. It's not just a matter of its age but about 15MW is in need of replacement. We are overly reliant on our distribution network that is aged, so there are significant challenges here but we have a team that is very hard working," Gordon noted.
He added that the team has been drafting a strategic plan that will include improving operations and transforming infrastructure so that GPL can be more efficient. Gordon also said that the company has been getting support from other international utilities.
"We will see some significant improvement but it is going to take a while, notwithstanding the low hanging fruits we are going after before we see enhance performance. It's not that we don't aspire to improve, we have set a vision going forward to what will take us to what we consider as being a world-class utility and it is going to take a while and we will work closely with the regulator and try to be as transparent with the customers," Gordon added.
Gordon was questioned by the Public Utilities Commission as to the viability of linking renewable energy sources to the company's grid, which would supplement its supply and provide a better service to GPL's customers.
"GPL takes its mandate from the government and the policy direction is to move towards cleaner energy," he said, while highlighting that the current network and infrastructure is not strong enough to support taking power from other sources and having it on the national grid.
"The age of the infrastructure… has contributed to a lot of outages. We have a very unstable system, so as was indicated last year, when the entire system went down 25 times, it's not a reflection of the administration but the system. The feeders go directly to generators and normally you want them to generate power while stepping up to a network that is stable and has redundancies," Gordon said.
He also stated that they have met with various interested parties and even have tendering processes currently ongoing but they cannot integrate any foreign systems with theirs.
He said that they are exploring the options but cannot risk putting other systems on their already unstable network.
"While we are pursuing the integration, we have to set a parallel course to make the grid more stable and that is what we are doing," Gordon said.
Around the Web