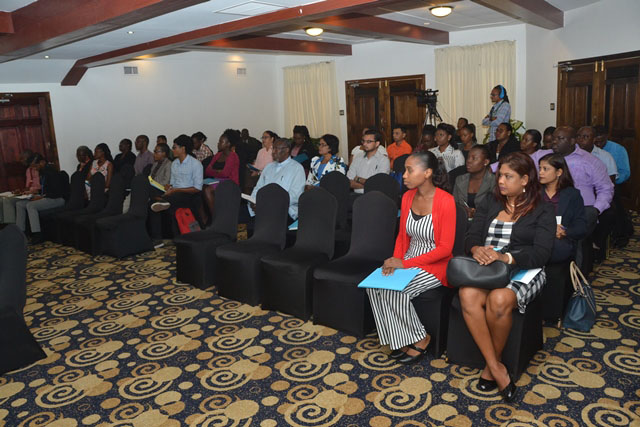 Stakeholders in the health sector met on Tuesday for a one-day workshop at the Herdmanston Lodge where attention was focused on the national action plan for Neglected Infectious (Tropical) Diseases (NIDs).
The workshop hosted by the Ministry of Public Healths Vector Control Unit was convened under the theme. Strike a decisive blow against five neglected infectious diseases and improve thousands of Guyanese lives.
According to the Director of Public Information, the meetings agenda was crafted to build and foster relationships with various stakeholders, while raising awareness related to the elimination of the five NIDs – Lymphatic filariasis or Filaria, leprosy, Leishmaniasis, Soil Transmitted Helminthiasis and American Trypanosomiasis commonly known as Chagas disease.
Minister of Public Health, Volda Lawrence focused her brief remarks on the need for intensified public awareness and education. Education is pivotal. When we say NIDs and, more so, when we attempt to name the diseases; what is it we are talking about? We need to be able to put it in context in a localised manner so that our people can feel that we are talking to them and they can take note. Minister Lawrence said.
The most significant impact of eliminating NIDs is related to the planning and the implementation of an effective awareness campaign in all communities especially those which are more susceptible.We have to teach our population or we will defeat the purpose of any Plan of Action if the audience for whom the message is intended is ignorant patient-education is a key to any successful (Public Health) programme,the minister said.
Around the Web