Several persons are now nursing injuries at the Georgetown Public Hospital after the bus they were in toppled after hitting a car at Providence, East Bank Demerara, last night.
According to information reaching Stabroek News, at least nine persons were  rushed to the Georgetown Public Hospital with various injuries after a Route 42 bus, BRR 7856, crashed into a car, PMM 1446, around 9:50 pm.
One of the eyewitnesses related to this newspaper that he was out on the road "stand up taking lil bit fresh air" when he saw the two vehicles speeding north along the road. According to the man, the bus was driving on the eastern side of the road while the car was driving at a fast rate on the western side of the road.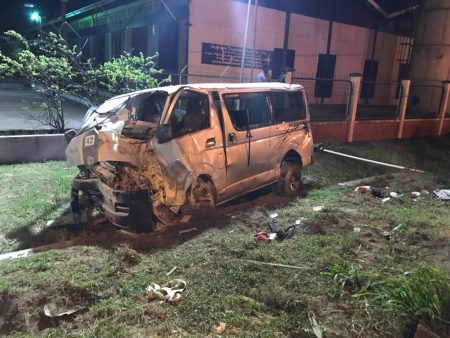 "All I see is the two vehicles speeding and the bus trying to come into the car lane and he end up lashing the side of the car and after he hit the car he topple over and all I see is a girl pitch out the car and another guy pitch out from the other side and the minibus spin and topple over till it reach by the gutter next to GuyOil [Service Station] deh," the eyewitness related.
According to the man, as soon as realized what had happened, he along with other persons and workers from the gas station rushed to the bus that was toppled over. They were eventually able to push the bus over and pulled the passengers that were trapped.
"It was real cruel to see what happened," the man added.

He pointed out that persons were then subsequently rushed to the Diamond Diagnostic Centre and the Georgetown Public Hospital.
Around the Web