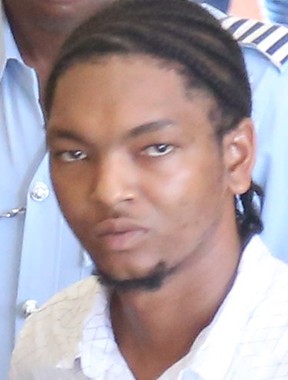 Taxi driver Keron Jordan, 23, who police say was intercepted with almost three pounds of cannabis in his vehicle, was yesterday remanded to prison on a charge of possession or narcotics for trafficking.
Jordan was brought before Magistrate Leron Daly in Georgetown, where he was read the charge that on March 27th, at Lot 3043 North Ruimveldt, he had 1.378 kg (equivalent to 3 pounds) of cannabis.
Jordan, of 3043 North Ruimveldt, pleaded not guilty.
Police Prosecutor Sanj Singh told the court that acting on information, the police intercepted a Toyota Spacio, bearing licence HC 6001, which was driven by Jordan, on Aubrey Barker Road, in the vicinity of the Garage restaurant. A search was then conducted on the vehicle and a multi-coloured bag, containing leaves, seeds and stems, was found in the back seat. When asked about the suspected drugs, the accused reportedly told police that he received it from "Black Boy" to take to a man on back road.
The accused was later remanded to prison and is expected to make his next court appearance on April 5th.
Around the Web