A senior member of the Guyana Defence Force (GDF) this morning is alleged to have shot and killed his partner during a heated argument at Alexander street, Georgetown.
The incident occurred around 11am at First Street, Alexander Village.
The woman, Reona Payne, reportedly sustained more than ten gunshot wounds about her body.
The suspect who has been identified as Orwain Sandy drove himself to the Ruimvedlt police station where he remains in custody. He also handed over the suspected murder weapon.
While the circumstances surrounding the incident remain unknown, Stabroek News understands that the couple was in a vehicle driven by Sandy when a heated argument ensued and he alleged opened fire on her.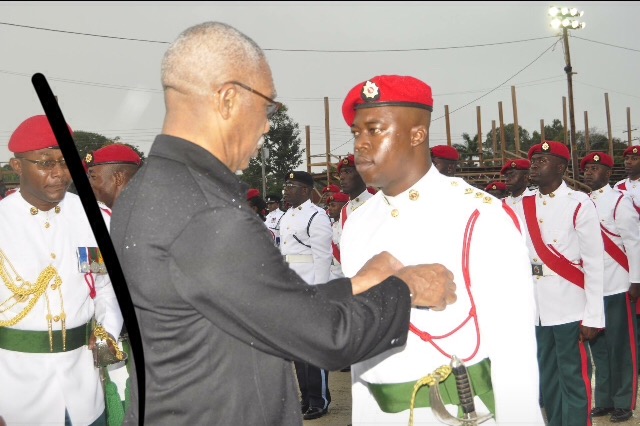 The woman was then found lying on the roadway.
Investigators are currently processing the scene.
The GDF today issued the following statement:
At approximately 1100 hours today (Saturday March 31, 2018) Captain Orwain Sandy of the Guyana Defence Force allegedly shot and killed his reputed wife in Alexander Village. He has since surrendered to the Guyana Police Force.
Captain Orwain Sandy is immediately interdicted from duties and the Guyana Defence Force has launched an inquiry into the incident.
The Force is truly saddened by this occurrence and would want to reassure the general populace that this is an isolated incident and is not reflective of the Values and Standards of the Guyana Defence Force.
The Chief of Staff has ordered the Inspector General of the Guyana Defence Force to conduct a Board of Inquiry into the circumstances surrounding the incident.
The Guyana Defence Force extends sincerest condolences to the relatives of the late Reona Payne.
Around the Web