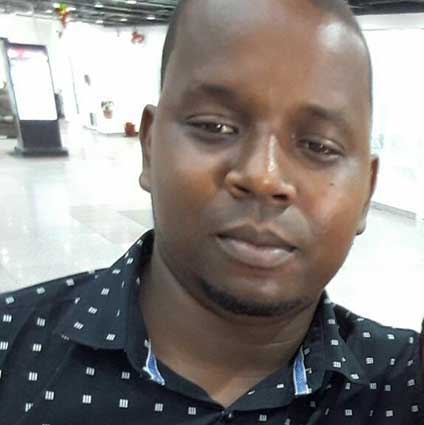 Police have arrested a 35-year-old chef for the murder of Linden shop owner Romel Edison Gomes and he is likely to be charged this week.
Acting police spokesman Shivpersaud Bacchus confirmed the arrest of John Caesar, a resident of East Ruimveldt Housing Scheme.
Caesar, who was being sought in relation to the crime, was arrested last Wednesday during an intelligence-led operation, Bacchus said in a statement.
He is being processed for court, while a second suspect is still being pursued by the police.
Gomes, called "Eddie," a father of one of Lot 53 Wismar Housing Scheme, Linden, was found in his shop in a pool of blood with his hands bound and a kerchief tied around his mouth on March 12th.
The murder is suspected to have occurred around 5.30 pm, after which the suspects fled the scene in Gomes' car, PVV 2057, which had been parked in front of his premises. The car was recovered intact about 9 am the following day at One Mile Wismar, said to be a seven-minute drive from the scene.
While the motive for the murder remains unclear, the accounts of multiple persons who were in the vicinity suggest that Gomes was approached in his shop by two men. An argument ensued, during which he was shot.
Residents reported hearing a loud explosion coming from the scene and upon checking they discovered Gomes' lifeless body in a pool of blood.
A post-mortem examination revealed that Gomes died as a result of gunshot injury to the head.
Gomes' brother-in-law, Jerome Allicock, had related to this newspaper that based on what he learnt, the murder occurred shortly after Gomes' three-year-old was picked up by his babysitter.
"He [the child] don't normally be in the yard playing, so when she [the babysitter] pass and see him, she went and hold him and call Romel," Allicock had related. "She [the babysitter] told him to take Manny [the child] inside but I hear Romel tell them [the bandits] 'Wait, leh this girl collect meh son,'" he said.
According to Allicock, the woman had just walked away from the scene when she heard the sound of a gunshot.
Gomes operated a grocery shop in front of his house.
Around the Web