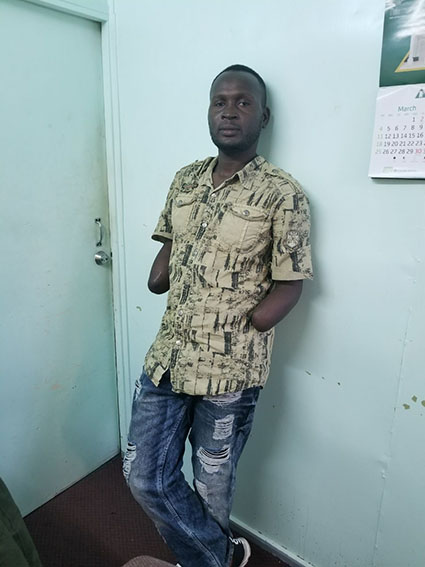 As little as three months ago, 37-year-old Melroy Pyle, who was awarded a government scholarship to study at the University of Guyana, had what may have seemed like a clear path to his future as a Civil Engineer.
The irony of his tragedy is that Pyle, whose ambitions literally require him to "work with his hands," lost both appendages following a work accident at the very university, while working on a building located not far from the Faculty of Technology, where he would have studied during his first year.
At the time he was employed with M and P Investment and had been working with the company for a few months as he had taken a year off from his studies to earn money and gain practical experience.
The accident occurred on December 18th, 2017, and three months onward, Pyle, a father to two boys and two girls, ages 11, 9, 5 and 3, is uncertain of his future, particularly in relation to his career prospects.
"Sometimes I feel like, yeah I could continue in that field and be a supervisor or whatsoever and a next time I just feel like to change course," Pyle told Sunday Stabroek during an interview last week. Pyle's lawyer, Mayo Robertson, was also present during the meeting.
"I was thinking programmes where your brains and your mouth will be able to do most of the work than your hands," he added, with a laugh.
Pyle noted that should he decide to change programmes, he would need to seek permission from the government, but acknowledged that it would also depend on the need for the particular skillset within the changing economy.
"…the government has need for engineers right now because with the oil and all these kinds of things that going on right now, the government, I guess, wants to venture out into the different regions… and to develop these regions you need engineers. You need proper roads, you need proper schools, proper facilities to accommodate people…," he stated.
On the day of the accident, the crew was preparing to "cast the beam" of the building, when Pyle came into contact with an exposed wire. According to him, he suffered severe burns resulting from electrocution, with 14,000 volts of electricity having passed through his system. He lost one of his hands as early as four days following the accident. He related that he had not been warned that he could possibly lose the other hand.
'You never prepare for this'
Today, he still experiences pain in those extremities as well as lingering discomfort since his buttocks were burnt and had required surgery and skin grafts. Pyle also suffered a back injury when he fell due to the sudden jolt.
There are things he cannot do for himself, leaving him dependent on the assistance of his wife and older daughter, an eleven-year-old, who was preparing to write the Grade Six exams last week.
He related, however, that he has started to adapt, brushing his teeth himself, and even signing his own name.
"I spent some time in the hospital, like three weeks going to four weeks and when I came out from the hospital, it was rough on me in terms of my help. I was not strong enough to move around, my body was still weak," he recalled.
"…There are many challenges, in many ways, but you try to adapt to the new life because it's like you never really… you never prepare for this…At first it's going to bring all thoughts to your mind and those kinda thing, like you have to adapt to this new world, you have to do things differently, you have to like say things differently, your prospects about life and people and things change and you see things on a different ground, from different points and so on," he stated.
Robertson noted that his client is in "remarkably good spirits" for somebody who has lost both his hands.
"I met with him less than a month or just about a month after the accident and I could not believe that somebody who had suffered such a tragic accident was in as good spirits as he was. I did not see at the time somebody who was willing to give up and say that that was the end of his road, and I think that was pretty remarkable," he commented.
The attorney noted that while Pyle has received a lot of support from his family, the accident has had a "devastating impact," effectively removing him from the role of principal breadwinner of the household. He further stated that while he had initially received the support of his employer, Pyle has not had a regular source of income for weeks.
Robertson will be filing litigation on Pyle's behalf against all relevant parties in a bid to secure the future of his client.
"I am looking at all potential avenues of liability along with all potential defendants in this matter," Robertson stated. The actual date of filing has not been revealed, but Robertson said that letters of notice have already been issued.
"Our goal is to try and put Melroy back into the position he would have been in if this thing had not occurred, not only for present, but looking down the road to his future, both as far as his personal career is concerned and also as a parent, the kinds of things that a father would like to do with his children… our goal is to ensure he comes as close as possible to being able to do things that he had planned to do, as we possibly can," said Robertson.
"No amount of money can compensate for the loss of both hands for somebody who is that young, but unfortunately, the law does not provide any other mechanism. We can't regrow his hands, but we could try through this process to make sure that there is enough financial security to make sure that he would be able to fulfill the dreams that he had for himself and that he was on his way to fulfilling prior to his loss," the lawyer added.
Robertson stated that they could not only consider the present impact but also look to the future, which involves consulting experts on the potential economic loss and the long-term prognosis on Pyle's injury, such as whether prosthetics acquired will have to be replaced down the line.
"…it's more than just what meets the eye….there is some psychological damage that is done [when] somebody that is suddenly in the prime of his life with a young wife and young family loses both hands. And we have to make sure all those aspects of his loss are assessed, not just what meets the eye," he stated.
Around the Web