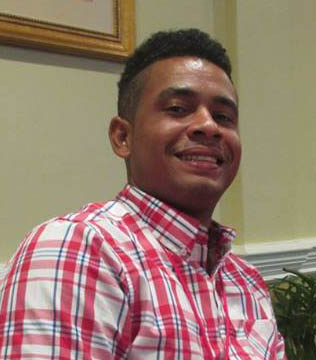 Growing up Laurence Bakhsh and his brother Lloyd struggled to understand their condition and it was even more difficult for them to explain it to their peers many of whom taunted them and believed that someone had worked obeah on them.
"Growing up was hard. When you explain to people, [they] would think you are exaggerating it and then some would say that somebody work on you. You can't take part in physical activities in school and you had to always be careful and your education was interfered with because there isn't anything in place to help people like us," 35-year-old Laurence told the Sunday Stabroek recently.
The two brothers have been diagnosed with severe haemophilia, a bleeding condition that results in persons with wounds bleeding much longer than normal because their blood does not have enough clotting factor.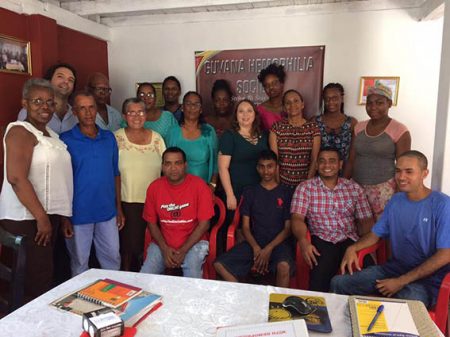 And because the bleeding also occurs internally, it affects the joints, making it difficult sometimes for the sufferers. Many people do not understand why the brothers limp and sometimes are forced to use crutches, depending on the seriousness of a bleeding attack.
Laurence said sometimes they would remain at home for months and this resulted in him not completing his secondary education. "Growing up, people use to…, make fun of the way I walk because if I am injured, I would walk with a limp," he said.
Because the disease is not well known and their desire to assist people like themselves to access medication and health care, the brothers have come together with others to form the Guyana Haemophilia  Society (GHS) which will officially be launched later this month. Laurence is the President while Coletta Benn is the Secretary/Treasurer. Dr Nicole Nedd-Jerrick, who knew the young men when they were growing up and understands their struggles, and Dr Bemaul of the Georgetown Public Hospital, along with others, support the new society. It is believed that about 75 persons in Guyana have this condition, and according to Laurence in the society there are seven persons—two with the severe case, three mild and two yet to be diagnosed—but he hopes with the official launch of the society more persons will be connected and given the support that is needed.
According to the World Federation of Haemophilia (WFH) people with haemophilia  do not bleed any faster than normal, but they can bleed for a longer time. Their blood does not have enough clotting factor, a protein in blood that controls bleeding. Haemophilia is quite rare and about 1 in 10,000 people are born with it.
It was further stated that people with severe haemophilia usually bleed frequently into their muscles or joints and may do so one to two times per week. The bleeding is often spontaneous, which means it happens for no obvious reason. On the other hand, people with moderate haemophilia  bleed less frequently, about once a month. They may bleed for a long time after surgery, a bad injury, or dental work. They will rarely experience spontaneous bleeding. People with mild haemophilia  usually bleed as a result of surgery or major injury. They do not bleed often and, in fact, some may never have a bleeding problem.
'Never worked'
Because of the illness neither Laurence nor his brother has ever been employed. It is difficult for them, even more so for his 29-year-old brother, who apart from haemophilia, has a problem with his sight.
"Because of the condition, employment is difficult because you are up today and tomorrow you are down. Your boss would have to really be understanding…," Laurence said.
While his brother fixes bicycles whenever possible Laurence, with the assistance of his father Hassan Bakhsh, has a kitchen garden. But he noted that the more persons with severe haemophilia exert themselves the more they will be prone to the internal injuries. The injuries attack the joints such as the knees, ankles, hips and shoulders, mostly where weight of the body is felt.
"It is a myth that we bleed more or faster, we just bleed longer. When it goes into the joints it causes it to be swollen and it will become inflamed; you will get a lot of heat and would not be able to walk for a few days. You will have to use crutches or a wheelchair so as not to have a lot of weight on the injured side," he shared.
He explained that the condition is often hereditary and in their case their mom is a mild carrier and there is always a 50/50 chance of the children being diagnosed once the mother has the condition. Where it is not hereditary it is referred to as spontaneous haemophilia .
It is a misconception that persons with haemophilia  cannot have children, but Laurence said if persons are aware of their condition then they will be more cautious. He is the father of a 2-year-old daughter, who more than likely is a carrier, but like her grandmother she does not have the symptoms like her dad and uncle.
His mother shared that her grandmother (that is how far they have been able to trace the condition in their family) buried about three of her sons who died just around the age of two after sustaining injuries. In those days the condition was more unknown and so the children did not receive the necessary treatment. Her other boys may have been mild carriers as they lived to old age.
While the government is working on having the diagnosis done locally, Laurence said at present samples have to be sent overseas.
The brothers are currently being treated with what Laurence called anti-haemophilia VIII, which he said is very expensive. It is taken intravenously and helps the clotting process to start but only lasts for 24 hours.
They are able to access the medication through the persistence of relatives who find organisations willing to assist and they will in turn send the medication through a hospital or pharmacy but never to an individual person. One such organisation is the US-based Project Share.
The GHS
It was while Laurence was attempting to access assistance for himself and his brother that he came across the WFH and was encouraged to form a society in Guyana as the federation does not assist individuals but rather societies.
While the society was founded since 2014, it was only in March of last year that it was finally registered.
Laurence said he was encouraged to become the president even though he was skeptical because as he puts it he was never "this kind of person to speak out because I was shy."
Since the registration a team from the WFH visited with the aim of accrediting the society. The team wanted to see the group, how many diagnosed members it has, the situation with hospitals and labs and if they were properly diagnosed.
The society's main aim is to highlight the plight of persons living with haemophilia  in Guyana and to educate the public with the hope of making their lives more acceptable and functional.
By highlighting the struggles of persons living with the condition and other blood diseases it will help them to understand the signs and symptoms and treatment options available. It also hopes to open a door to local and international support.
The society will officially launch on World Haemophilia  Day which is observed on April 17. The launching will be at the National Library from 4 pm.  The society can be contacted via Facebook or persons can email guyhemophilia@gmail.com. Contact can also be made via 647-3263.
"…You try to cover it and be as normal as possible, but you still have a problem," Laurence said. "Denial is not the remedy. Before you have a surgery, you need to let your doctor know if you have the condition."
Around the Web