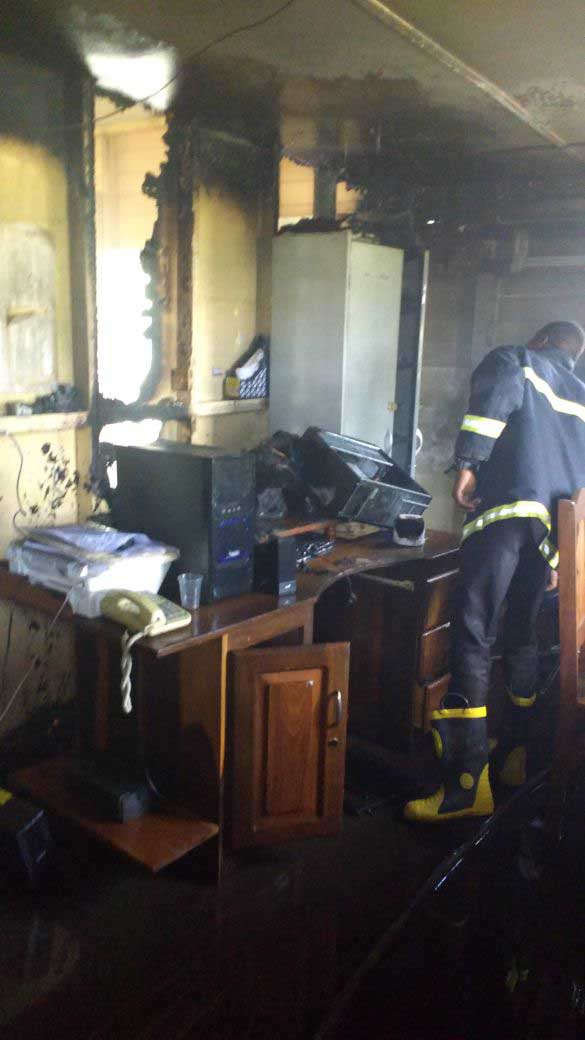 A fire of unknown origin on Friday damaged a section of the No. 52-74 Village Water Users' Association office at Number 63 Village, Corentyne and both the police and fire service are currently investigating the cause.
A part of the building's interior
was damaged while a computer system and documents were destroyed by the fire, which occurred just one day before
the association was due to hold an election.
Sunday Stabroek was told that after two officials claimed they had locked the office and left, residents saw smoke emanating from the building.
An alarm was sounded and the Corriverton Fire Station quickly responded and firefighters quickly put out the fire.
A Guyana Fire Service source said that mostly combustible items in the office were badly damaged or destroyed. A desk and an air conditioning unit were also damaged.
However, sources told this newspaper that the computer's hard drive is still intact and it is hoped that records stored on it have been saved.
The association went ahead with the planned election yesterday, where the chairman was re-elected and a new executive board was chosen.
Gobin Harbhajan, the Prime Minister's Representative in Region Six and an observer at previous elections, had recommend an audit of the association two weeks ago because both current and former members had complained to him of discrepancies at the office in past years.
Meanwhile, the fire service has since launched an investigation to determine the cause of the fire. This newspaper was told that the police have also launched an investigation into the matter.
Around the Web