President David Granger yesterday charged the Mayor and Town Councils across the country to follow the lead of the town of Bartica in its pursuit of initiatives, which not only promote the 'green' agenda, but also add to the aesthetics as he commissioned a boardwalk at the Golden Beach.
The area, which is lighted by solar power and has a number of seating areas drew the usual large crowd for the annual Bartica Easter Regatta, where President Granger said that the facilities should be replicated across Guyana, a release from the Ministry of the Presidency said.
"Bartica is dear to my heart. You are now a Town, something that should have happened more than 100 years ago but it is now irreversible and unchangeable and you can look around and see the changes that the Town Council has made in two brief years. Mayor [Gifford] Marshall and his Deputy set out to establish a clean, 'green' and safe town and they are well on their way to achieving that objective. This is a model and I wish that every other Town should emulate this example.  Most of them are waterfronts and this is a joy to see. Bartica is a model and I am vindicated in making Bartica a Town and giving Bartica the name, 'a clean, 'green' town'," he said.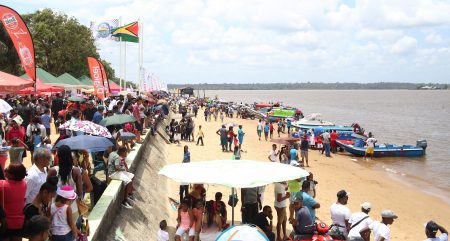 Marshall, in his remarks, said that the town council is working to ensure that it achieves the mandate of becoming the first 'green' town in Guyana and the Caribbean.
He added: "Bartica can become the tourism capital of Guyana. We are working to ensure that our true potential is met. We are working to ensure that we enforce a 'green' agenda. We are working to ensure that there is a good life for all. Let us continue to work for the development of our town and most importantly let us work for a better Guyana. We have unveiled our first boardwalk. Next year we will (have) an extension and His Excellency will declare open the extension. These projects are here to show not just what we can do but it is a pillar of development. It places us on the centre stage of the Caribbean and the world".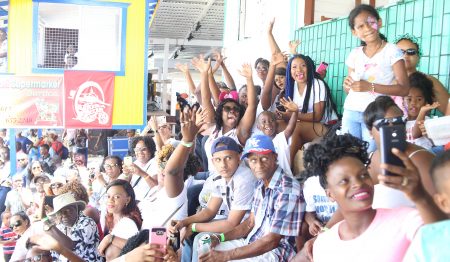 Rod Henson, Country Manager for ExxonMobil Guyana, who was in the region to participate in the festivities, said that he is impressed with what he has seen so far.
"This is my first time but I am having a blast. It is absolutely a great environment and great people and lots of sun so it's a great day for racing. When I got the opportunity to come and see, my wife and I decided to come and it is fantastic and I wish many more people could come out and see this," he said, according to the Ministry of the Presidency.
Nazir Baksh, who is visiting Bartica with his family from Canada, said that while it is his first time, he too is impressed with what he has seen over the weekend.  "It is my first time in Bartica. It's really good. We are enjoying this; the seating and the accommodation, the boardwalk… We are definitely encouraged to come back," he said.
Around the Web