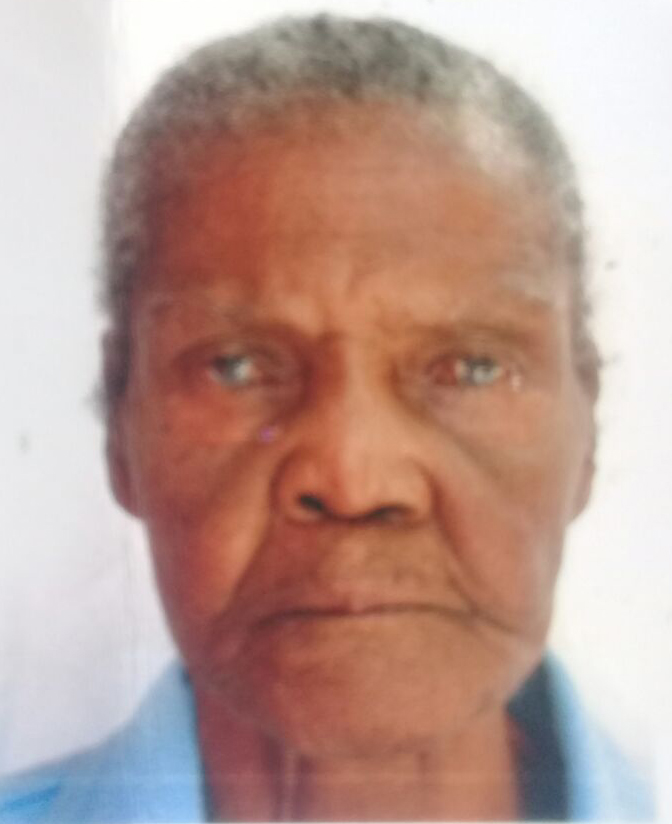 Friends of 92-year-old Elsie Dickson are pleading with the public for  assistance in locating the woman who has been missing for more than two weeks.
According to Walvis Hinds, a rural constable, who resides next to Dickson at Long Creek, Linden-Soesdyke Highway, the woman who has been living in the area for as long as he can remember disappeared without a trace on Sunday, March 18.
"She just disappear just like that. The last time we see she is on Sunday [March 18] at she house and is nah like she does sick. She got a good, good memory and nothing like this ever happen before. We have no idea what might have happened to her. There's nothing, not even a trace," Hinds related to Stabroek News yesterday.
Hinds explained that the woman was discovered missing when a bus that usually delivers groceries to her house could not locate her.
"She's a pensioner and there's a bus that does bring grocery in the village and she does normally order thing and when they come she would just pay them and collect she things. When they come they would knock at the house and she would come out so when they de knocking and she ain't coming out they ask me if she sleeping deep and I seh `no she usually don't'", Hinds said.
After he realized that the woman was taking too long to answer the door, he got up and went to the back of her yard where he checked the toilet. He did not find her there so he approached her backdoor which he said was open.
Hinds said that when he pushed the door he did not see the woman on her bed and proceeded to search her house but was unable to find her.
"We didn't see any footsteps or anything and the house was just normal, normal. Up to know we ain't hear anything from anyone and we don't know where she gone," Hinds said, while relating that the residents of the area are appealing to the general public to assist them in locating the woman.
Any persons with information about the whereabouts of Dickson can contact Hinds on 678-0319 or 678-4501.
Around the Web