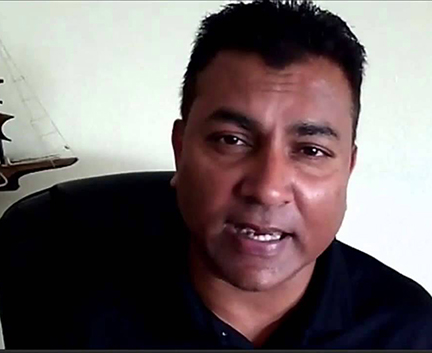 Economist Peter Ramsaroop says that Guyana should apply immediately for an international credit rating given that its pending oil wealth would make it even more difficult to access financing.
In a statement, he said that Guyana finds itself in a precarious position where it is classified as neither rich nor poor but with the prospect of enormous wealth. This has led to a situation where the country is unable to access critical financing on favourable terms.
The prospect of oil coupled with the country's elevation out of the Heavily Indebted Poor Country (HIPC) category to that of a Low Middle Income one, means that aid, grants and concessionary loans that were previously available from bilateral partners and donor countries will be no more, he said.
The discovery of billions of barrels of oil will also have a negative impact on the country's ability to access needed financing.
"What Guyana needs, and needs as a matter of urgency is an official credit rating where as a country, its resources and economic standing can be leveraged to target high end financing. This is the only way to accelerate Guyana's development into the 21st century since the projected direct benefits from oil to the Guyanese people are at best worrying", he said.
Ramsaroop, who is an advisor to Opposition Leader Bharrat Jagdeo, noted that Trinidad and Tobago, an oil producing country for the past century, has seen it fit to apply for and attain an international credit rating (A-) as has Suriname (B-).
"The projected revenue from oil is being grossly misrepresented.  Even the Minister of Business (Dominic Gaskin) is using far more conservative figures than those being released by an already conservative oil company. Guyana's treasury will not swell exponentially as dreamed up by Minister (of Natural Resources) Raphael Trotman. At best, the country stands to earn, at today's oil prices, US$300M a year—a portion of which has to be set aside in the Sovereign Wealth Fund, now renamed the Natural Resources Fund. Dreams are also being sold to the Local Private Sector. American and other countries' foreign acquisition laws are extremely stringent laws that companies such as ExxonMobil must abide by nonetheless. What this means, is that if a Guyanese company or business wants to supply a commodity or service to the international oil companies- their products or services have to be on par with those countries standards and compliant with their acquisition laws", Ramsaroop argued.
He said that the private sector here is "light years" away from competing at an international standard and in a manner that would allow those companies to utilize their products or services.
"The David Granger Administration has done little to nothing to help prepare the Private Sector to take advantage of what may come its way. Oil revenue is not going to have the transformational impact being promised, not under the management of the current administration", Ramsaroop contended.
He said that Minister of Finance Winston Jordan would do well to immediately initiate steps to have reputable international firms such as S&P Global, Fitch or Moody's come in and immediately conduct an economic and political risk analysis to come up with a country credit rating. Ramsaroop said that prior to the discovery of oil, this may not have been a priority but must immediately find itself at the top of the list for consideration at the level of cabinet.
A credit rating for Guyana is even more important, given the fact the country's debt to GDP ratio has been increasing and IFIs and donor countries would be looking for stronger guarantees provided under an international credit rating.
Around the Web