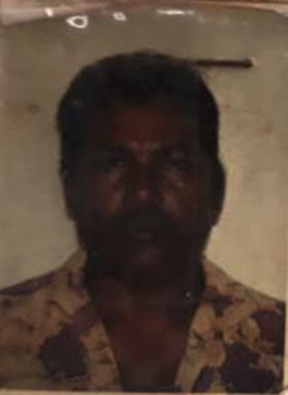 A bandit yesterday shot a La Penitence Market vendor in his head after he tried to defend his wife who was being robbed.
Doodnauth Danasri, 62, called 'Hardat' of Windsor Forest, West Coast Demerara and his wife Meena Danasri were attacked at about 5:30 PM, at their stall outside Twin's Drug Store, Saffon Street. Four unmasked men, one of whom was armed with a suspected .38 revolver, carried out the attack.
Doodnauth was rushed to the Georgetown Public Hospital where he was admitted. His condition is said to be critical.
Recounting the ordeal last night, his wife told Stabroek News she was finishing off repacking vegetables when the men approached her.
"I was on the stand packing the ochroes. By time I turn around one of them stand behind me. One of them had a shine gun and the other had a knife," Meena explained. "So meh husband  packing the bus and he come from behind the bus and turn and said ey wha you going and do that lady and I start holler. He then fired the shots at my husband," she related.
After the bandit fired the shots at her husband, the woman said she ran behind their bus in a bid to escape but the bandits "come behind me with the knife and gun and I hand them the money."
The perpetrators managed to cart off $150,000 in cash, which Meena said was from Sunday's and yesterday's sales.  After committing the robbery the men escaped through James Street, Albouystown.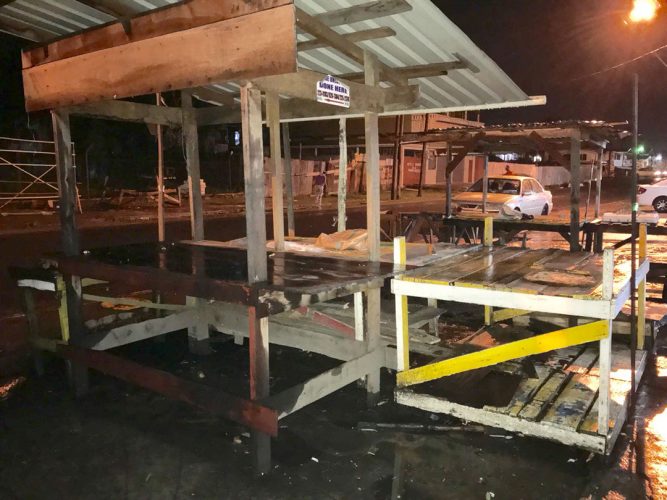 Doodnauth was shot once in the region of his temple and to his hand and according to his wife the bullet grazed his abdomen.
She said that on Sunday and yesterday, sometime after 1pm, she noticed suspicious persons lurking around the market.
"The market constables see them too. Them constables come next to me and tell me hustle and pack! hustle and pack! and I was trying to but they come to me," the visibly traumatised woman said.
The woman added that she was attacked by two men but later learnt that two others were keeping guard.
At the scene yesterday, vendors recounted what had happened earlier in the afternoon among themselves.
One vendor, Seeroj (only name given) told Stabroek News, that she was packing up her stall when she heard screaming from Meena who retails next door to her.
This newspaper was told that two of the bandits first rode up to the stall and two others followed behind. At the stall they attacked Meena and demanded cash.
"When they come they tell she too to take of the apron but she didn't give it up. And she husband had a knife and telling them 'lef de woman, lef de woman' and they shoot him to his head," she explained.
Prior to the shooting, Seeroj said "I hear the scream and meh husband tell me tek off the apron and I cut it and throw it and run."
At the scene, vendors stated that the three female constabulary officers were next to the vendor but could do nothing other than scream for help.
"Oh they tried to scream for help because that was all they could do. They didn't have gun or baton, nothing, but they screamed for help because nobody was around," said a vendor.
This newspaper was told that it is suspected that a .32 revolver was used in the shooting.
The suspects, vendors said, were seen surveilling the market area on Sunday.
After news of the shooting got to the police, ranks from the Ruimveldt Police Station responded and rushed the injured man to the hospital.
Around the Web