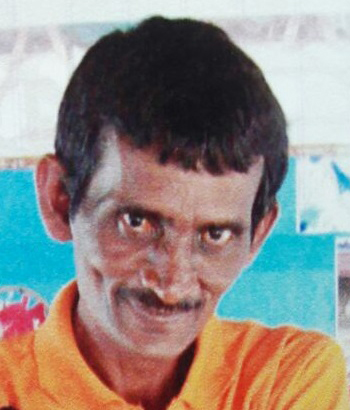 Nine persons are now in custody over the murder of a watchman including seven employees of the Rose Hall store he was guarding.
On Saturday, the battered body of Muneshprem Ayasammy Monien, also known as 'Watchie', 53, was discovered.  Monien was stationed at Sukhram's General Store and Agro Chemicals known as 'Fat lady' located along the Rose Hall Town Public Road.
Investigators are working on the theory that the robbery which led to the death of the security guard  may have been an inside job.
Commander of B Division, Lyndon Alves yesterday said that seven persons were arrested on Sunday, while two others were arrested yesterday.
He related that investigators are working on two theories. He said that based on investigations so far,  it is possible that an employee may have been involved since there were no signs of any forced entry to the building. It is also being suggested that a staff member purposely left a door to the building unlocked on Saturday afternoon.
According to a source, investigators believe that an employee sought help from other persons to rob the business place.
According to Alves, the suspects were being interviewed as of yesterday afternoon. However, they are not saying much, a police source said.
Stabroek News has since been told that over $1.5M, Saturday's sales, was stolen from the building.
Meanwhile, according to information gathered, it is also being alleged that someone attempted to break into the general store sometime during last week. Stabroek News was told that the now deceased security guard had identified the suspect. He reportedly resides a street away from the store's location. That suspect is also in custody.
Monien sustained a slit on his throat, a chop wound on his head, two broken legs and other injuries about his body. The owners of the general store are currently overseas. The caretaker of the store, who resides in Albion Village, Corentyne received a call around 11 pm on Saturday that something had happened at the store. She then rushed over where she saw a large gathering of residents and police officers outside of the store.
An eyewitness had told Stabroek News, that when the woman entered the store, the body was tucked in a corner on a few sand bags next to the door at the back of the building where Monien would usually stand guard.
A resident who was part of the discovery team had stated that around 8 pm persons were passing and calling on Monien but he did not respond. The man said he went to the cricket game at the Albion Sports Complex and returned minutes after 11 pm, when he saw a large gathering outside of the store. "I run in and see the body and he legs look break up and he had a slash on he throat and one on he head", said the man.
Stabroek News was also told that the entire store was ransacked.
Around the Web