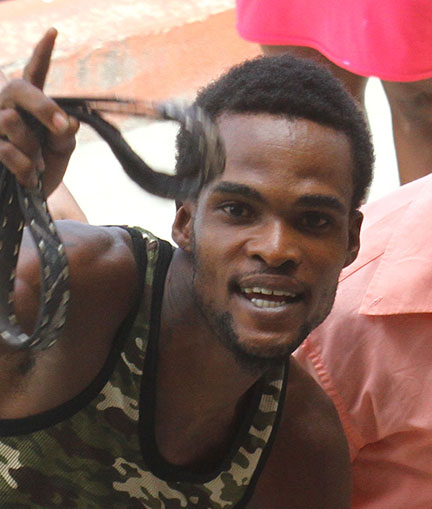 After accusing an officer of placing a gun to his head and forcing him to confess to an armed robbery charge, a labourer was yesterday remanded to prison for the offence.
Jerome Smartt, 24, of 'C' Field Sophia, was read two armed robbery charges by Magistrate Fabayo Azore.
The first charge alleged that Smartt, together with others, and armed with a gun, on March 29, at Crane Place, South Ruimveldt, robbed Jamal Angus of a HTC cellphone along with other items, totaling $67,100.
It was further alleged that on the very date in the company of another, at Prashad Nagar, while armed with a gun, he robbed Ronald David of a cellphone worth $40,000.
Smartt pleaded guilty with explanation to the first charge and not guilty to the second charge.
The prosecutor objected to bail being granted based on the seriousness of the offences, nature and gravity of the charges and the fact that a weapon was used.
Smartt was then granted an opportunity to explain to the court why he pleaded guilty with explanation to the first charge. He stated that he found the phone on the road and that he never used a firearm. He added that while at the Prashad Nagar Police Station an officer put a gun to his head and forced him to confess to the crime.
Based on Smartt's explanation a not-guilty plea was entered. The accused was then remanded to prison and the matter adjourned to April 25.
Around the Web