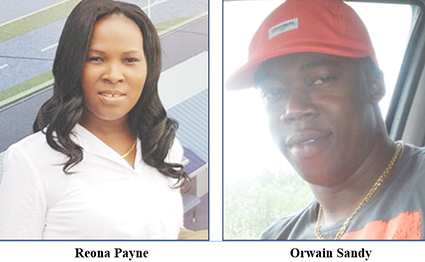 Guyana Defence Force (GDF) Captain Orwain Sandy was this morning charged with the murder of his common-law wife Reona Payne, whom he gunned down last Saturday.
Sandy, who was shedding tears as he was led into court, was read the charge for the capital offence by Georgetown Magistrate Judy Latchman. He was not required to plead.
During the arraignment, Sandy's attorney, James Bond, requested that his client be examined by a psychiatrist.
Bond noted that Sandy had been seeing a psychiatrist over the last two years and stressed that it was important that he be evaluated, not only for the defence's case but also for the man's safety. He said he would not want any mishap to occur while Sandy is in custody.
Magistrate Latchman granted the attorney's request. She then remanded Sandy to prison until April 24th, when a report is expected to be given to the court.
Sandy was arrested after he turned himself over to the police following the fatal shooting in Alexander Village, Georgetown.
After shooting a fleeing Payne some 14 times at First Street, Alexander Village, Sandy reportedly drove himself to the Ruimveldt Police Station and informed the police there of what transpired.
He also handed over the suspected murder weapon and was subsequently placed into custody.
Payne died instantly.
Although both Sandy and Payne were married to other people, they were living together for about five years at Sandy's Lot 771 Providence, East Bank Demerara home.
In a statement, the Guyana Defence Force (GDF) had confirmed that Sandy was immediately interdicted from duties and announced that an inquiry had been launched to determine the circumstances surrounding the fatal shooting.
"The Force is truly saddened by this occurrence and would want to reassure the general populace that this is an isolated incident and is not reflective of the Values and Standards of the Guyana Defence Force," the statement had noted.
It added that the Chief of Staff, Brigadier Patrick West had ordered the Inspector General of the GDF to conduct a board of inquiry into the circumstances surrounding the incident.
This newspaper was told by friends of the couple that they had been experiencing problems. Sandy has claimed that Payne was involved in a relationship with another rank of the GDF.
Around the Web