Residents of the village of Wakapoa in the lower Pomeroon River in Region 2 (Pomeroon/Supenaam) now have access to safe water following the installation of Slow Sand Filters by the Guyana Water Incorporated (GWI).
A release yesterday from GWI said that the village has been experiencing harsh dry weather over the past two months, which had resulted in a shortage of water. GWI's team analysed the situation and on Wednesday installed six of the Slow Sand Filters. Water is being pumped from the Wakapoa Creek into water tanks and then placed into drums in which the Slow Sand Filters have been installed, GWI said. Residents then access the clean water from taps which lead from those drums.
GWI's Managing Director, Dr. Richard Van West-Charles and a team yesterday visited the village and explained this system to the residents, who have been urged to ensure that the filters are never dry and the receptacles are properly covered.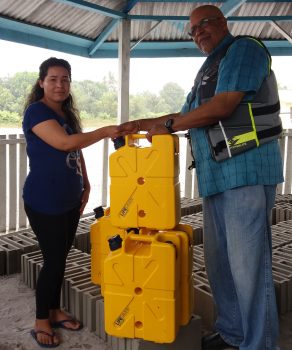 Dr. Van West-Charles told the residents the intervention by GWI is in line with its efforts to ensure equal access to safe water for all Guyanese. He said  special emphasis has been placed on ensuring that the schools, health centre and teachers' dormitory in the Region 2 village have access to the safe water.
Within the coming week, GWI will be setting up more of the Slow Sand filters to ensure that all of the residents in the village have access to safe water. Additionally, next week, the utility company will be installing Ultraviolet Sterilisers which will eradicate any bacteria which may be in the water. GWI will be testing the water on a monthly basis and presenting the results to the Wakapoa Village council as well as the Health Centre.
GWI's team will also be visiting the area to teach residents how to establish such a system for their individual homes. Also, Jerrycans, which function as portable water filters, were handed over to the village council for use in far flung homes.
Dr. Van West-Charles pointed out that the village has an existing reservoir with a 9000-gallon capacity, which GWI will be working along with residents to clean and disinfect by the end of April, 2018. This reservoir will be employed to store safe water which will be for use by all residents.
The utility's engineers will also be examining the possibility of establishing a catchment area where water can be stored then moved to the filtration system, the release said.
Wakapoa Village Councillor, Marcie Fredericks was one of the residents who expressed pleasure at the intervention by GWI. She was particularly pleased that the children in the community now have access to clean and safe water.
Another resident, Kenroy Richards, who is currently tapping water from a spring, was especially delighted by the fact that GWI will be teaching the residents to establish slow sand filtration systems for their homes.
Around the Web