Four of Guyana's public hospitals are set to be transformed into safer and greener facilities under the Pan American Health Organization's (PAHO) SMART Health Care Facilities Project.
This project, funded by the United Kingdom through its Department for International Development (DfID), is designed to help reduce mortality, morbidity and economic losses from natural disasters, to which many Caribbean nations are vulnerable. Over the next three years, a total of £38 million is expected to be spent to retrofit 50 facilities in seven Caribbean countries; namely Guyana, Belize, St Vincent and the Grenadines, St Lucia, Jamaica, Grenada and Dominica.
It is not yet known how much of this sum will be spent in Guyana but Minister of Public Health Volda Lawrence told a press conference yesterday that the Diamond Diagnostic Centre, the Mabaruma Regional Hospital, the Leonora Cottage Hospital and the Lethem Regional Hospital have already been identified for funding, while the Paramakatoi Health Centre is also expected to be retrofitted based on the availability of funds.
As noted by Lawrence, health care facilities are considered 'smart' when they link their structural and operational safety with green interventions at a reasonable cost-to-benefit ratio.
In order to achieve this, Guyana's facilities must be retrofitted. This retrofitting is expected to include the strengthening of roofs and other structures, the installation of hurricane shelters, improvement of drainage as well as the improvement of disability access, power supply, safety and efficiency.
Cumulatively, these endeavors are expected to improve both the resilience and energy efficiency of the health facilities, making them cheaper to run.
Lawrence noted that an evaluation of the facilities found that the hospitals' current safety levels are inadequate to protect the lives of patients and staff during and after a disaster.
She added that since none of the four facilities obtained the minimum score required to be classified as a green facility, then all must be retrofitted.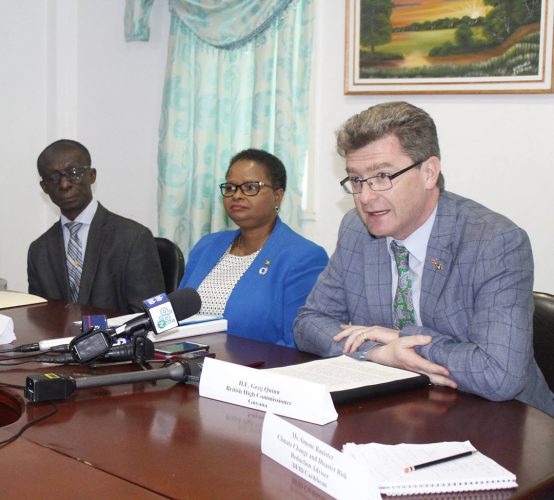 A total of 71 health care facilities in Guyana were evaluated using the Health Safety Index (HIS) and almost all received a classification of 'C', meaning that urgent intervention measures are needed. Only three—the Materials Management Unit pharmaceutical bond at Diamond, the Enmore Clinic and a health facility at Number 56 Village, Corentyne scored higher, but even they earned only a 'B' classification.
The minister explained that building codes in Guyana have not taken into consideration some of the hazards faced due to climate change, and that has made health facilities vulnerable.
"We need to start widening our focus. We have seen wind storms in the upper-Mazaruni damage houses and cause minor damage to health facilities and in Region 10 we have increasingly been experiencing wind storms. In building, we never took into consideration these factors. It is not only about flooding," she stressed.
PAHO Representative in Guyana Dr. William Adu-Krow noted that a "safe hospital" is one whose services remain accessible and function at maximum capacity and in the same infrastructure, during and immediately following the impact of a major event. This implies structural stability, the ongoing availability of basic services, and organization within the hospital.
He further added that in "green" hospitals, air quality improves, water and energy costs decline, and people's working conditions improve through enhanced physical access to hospitals, improved access to safe water and improved safety conditions.
A hospital which is both safe and green is considered "SMART."
According to Adu-Krow, the project, which began in 2015, is currently at it design phase, with four Guyanese companies having been shortlisted to design and possibly perform the necessary construction.
He noted that currently, the works are projected to cost US$950,000 at Leonora, US$910,000 at Lethem, US$837,000 at Mabaruma, US$515,000 at Paramakatoi and US$920,000 at Diamond. These are, however, only initial cost estimates as detailed designs have not yet been approved. PAHO is currently evaluating the technical proposals of the four shortlisted companies.
Around the Web