Resisting political control and getting its membership to be neutral continue to be challenges for the National Toshaos Council (NTC) in the face of strong opposition by some government officials, outgoing Chairman Joel Fredericks says.
"The NTC was heavily politicised by the past administration. People were afraid to speak out. With the change in government and with new leaders being more vocal and taking charge of the NTC in 2015, we decided that we should be independent and neutral despite receiving a subvention from government," Fredericks told Sunday Stabroek during an interview.
However, Fredericks said the NTC has achieved some level of neutrality but there is still some way to go to achieve full independence.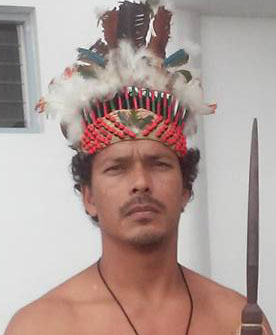 He was supported in his view by Vice Chairman Lenox Shuman and Secretary Eyon Boyal.
Fredericks and Boyal will not be on the new NTC executive as they will not be eligible to contest the toshaos elections due from mid-May to mid-June, having already served two terms. Shuman, the Toshao of Pakuri (St Cuthbert's) village, has served one term but has indicated that he will not be seeking re-election.
"It was a struggle to reach where we are today," Fredericks said during the interview, which was held at the NTC's Camp and Quamina streets, Georgetown office.
And while they have a long way to go in enabling the NTC to remain neutral after they demit office, Fredericks said they have a plan in place which they were not keen on sharing.
Shuman noted that there was a move even before they were sworn into their respective offices in 2015 to capture the NTC and ensure that it remained under the control of the administration of the day.
"That was manifested when an advisor (name provided) to Minister [Sidney] Allicock called the NTC executive to a meeting and started to dictate what we could and could not do," he explained.
Shuman said one of the things the advisor advised against when the NTC executive brought it up was developing its own rules and procedures. Shuman said they argued against it, noting that provision was made for the rules and regulations in Section 41 of the Amerindian Act.
Because of their stance on neutrality and independence, Boyal said, "We had to remind this administration that they were coming with change and that people voted for change. If [they] are going to continue to direct and control the NTC, like the previous PPP administration, that meant there was going to be no real change."
They reminded the authorities at the Ministry of Indigenous Peoples' Affairs (MOIPA) that it was in President David Granger's 100-day plan to depoliticise the NTC. "When we were elected, they wanted to take us down the same road," Boyal said.
To move out of the control of the MOIPA, Fredericks said they obtained a small office space.
In 2016, the NTC made a request for a plot of land to build a secretariat in keeping with the Amerindian Act, which provides for the NTC to establish a secretariat.
About a half-acre land was identified at the Sophia Exhibition Centre and the land was measured by the Guyana Lands and Surveys Commission. The land identified was highly publicised with a turning of the sod ceremony by the President. Nevertheless, the NTC is still awaiting documents to the land before it can build its facility.
"We are talking to local and international partners, seeking funding to establish this secretariat and some of these partners are interested in providing support but they are asking us to show them ownership of the land," Fredericks said.
Even though representation had been made several times at several levels for documentation of ownership of the land, Shuman said, "Maybe, there is some degree of incompetence along the line. Maybe there is a disconnect or maybe, the people below him are unwilling to deal with anything as it relates to indigenous peoples."
Another achievement, Fredericks said, was the NTC building relationships with all the local indigenous organisations.
"It was never like that before. We opened up the doors. At our conference in 2015, we invited all the local organisations because we could not claim that we were representing the indigenous peoples of Guyana and then just operating in isolation," he added.
Outside of the indigenous organisations, he said, they built relationships with the Inter-American Development Bank and Conservation International (CI). They also signed a memorandum of understanding with CI based on strategic cooperation in areas of common interest. That MoU has since been beneficial to the NTC, he said.
Around the Web