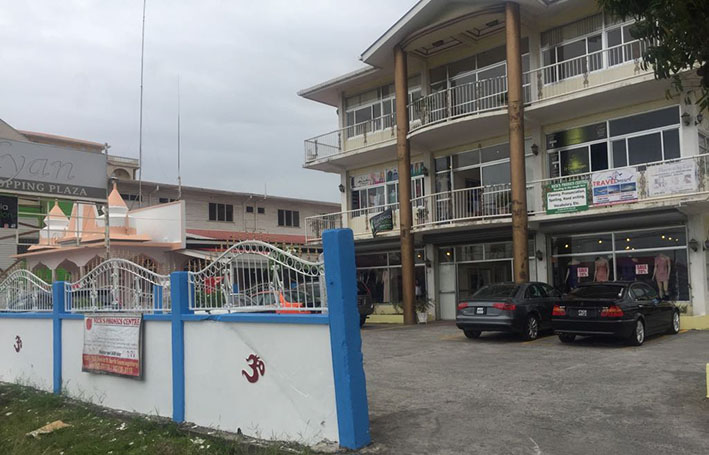 More than $1 million in valuables, including cash, was stolen between Friday evening and yesterday morning when businesses in the Kalyan Centre and Shopping Plaza, located along Lamaha Street, Georgetown, were broken into.
The discovery was made around 8 am yesterday, when one of the mall's tenants turned up for work and noticed that the doors to the Euphoria Salon and the His and Her Closet were open. It was subsequently discovered that cash, electronic appliances and brand name clothing were missing.
Priya Sookram, owner of the His and Her Closet, told Sunday Stabroek that she secured her business around 6 pm on Friday and left everything intact.
"This morning I got a call saying the store was [broken into]. The window and door were opened. When I came, I saw the door open and when I peep through, one of the windows open and when I watch my shelves was empty, my showcase, everything," Sookram explained.
She said an estimated $1 million in valuables was stolen from her, including brand name clothing, sunglasses and cologne.
Sookram also sells wedding dresses, two of which were stolen.
"Everything. I can't really explain further. I don't know what to say, right now. I thinking how to restock this store," the woman noted.
Meanwhile, an employee of the salon explained that the burglar(s) managed to get this week's payroll of about $200,000 and three straightening irons and blow dryers.
According to the woman, who did not want to be named, they secured the business on Friday evening. She said yesterday she received a call from her employer.
"Is one of the tenant did come to work and she notice this door (points to the salon door) open and she tell she [her employer] that the place open up and stuff and I think she come down and check around and then she call me and ask me if I sure I lock the door properly. So, I told her yes, that I did and then the caretaker made another check," the salon employee recalled.
The woman said money is not normally kept in the salon but it was on Friday, since her employer had a busy schedule yesterday and wanted to ensure that the workers were paid.
It is suspected that the burglar(s) gained entry to the premises by scaling the fence.
While it is unclear where the security guard on duty was at the time of the break-ins, Sunday Stabroek was told that he was assisting the police with investigations up to yesterday afternoon.
The guard, this newspaper learnt, related to the business owners that he heard no strange noise or saw any movements that might have alerted him that something was amiss.
While the building is not monitored by surveillance cameras, this newspaper understands that investigators would be reviewing footage recorded from nearby buildings in the hopes of identifying the perpetrator(s).
Around the Web