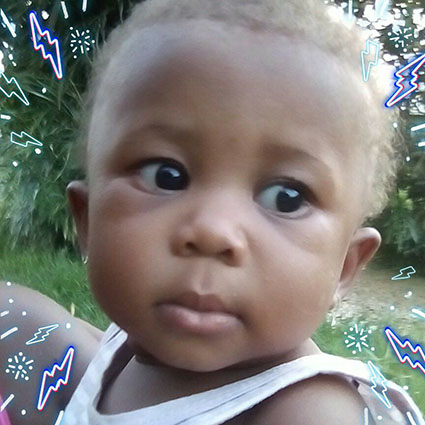 December 13, 2017 is a day that will remain etched forever in the mind of 22-year-old Shadica Dublin. It is the day she pulled out the body of her 17-month-old daughter Amya Eastman from a muddy trench in front of her Mocha Arcadia home following hours of a frantic search for the child who had gone missing.
"The police was there and they was like telling me how to look for her in the trench and then I tell them I find she and he tell me bring she up and I just bring she up and I look at she in she diaper and was like she was looking at me and then I couldn't remember anything else," the grieving mother told the Sunday Stabroek recently.
As a single parent, she was out working as a domestic and had left her three children aged 17 months and three and five years old at home in the care of an adult. The family lived in a small one-bedroom home in a yard surrounded by relatives of the children's father. He no longer lives with his family, but Dublin said they have "a good communication" and he helps to support them even though she refers to herself as a single parent and added that "life can really be hard."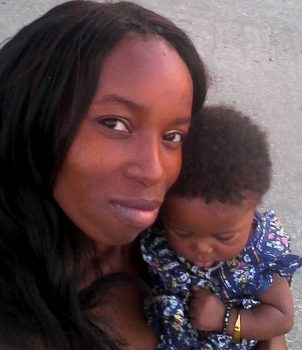 Dublin is no stranger to the pain of death as the aunt she grew up with died a few years ago and her father was murdered in Sophia, months before her youngest child died. But those deaths did not prepare her for the sudden death of little Amya.
She recalled the child's happy demeanour hours before she breathed her last. Her eldest sister had returned from school and she was excited about the gifts and the little treats in a party bag she had taken home. Shortly after, Dublin left for a domestic job and on her return, Amya was nowhere to be found.
"I remember one of her sisters saying 'ya ya mommy we can't find Amya' and I dropped everything… we started looking for her, but we couldn't find her and I tek a picture of her and went to the station and report that we not finding her," she recalled.
Police officers returned with her to the home and it was they who suggested that the trench in front of the home be searched.
"I went in the trench and it was the Corporal who tell me how to search, how to use my foot instead of my hand and I keep searching but nothing. He then tell me search under the bridge and is then I feel like a small hand touch my foot," Dublin said, closing her eyes against the pain.
"I paused a little bit because I did not know what to do and then I tell them I find her and they tell me pull she up… I left stupid after I pull she up," she recounted.
Dublin said she cried a lot and they spent what felt like hours with the body on the road. "I was in shock and I was asking 'Why Amya, why it couldn't be me?' You know she was innocent and maybe I should have gone instead of her," she said sadly.
She was then taken to the police station where she spent some 24 hours; she was questioned extensively. While some may view this as inhuman and even overkill, Dublin holds no grudges against the officers, who she said were just doing their job.
"The officers were 100 percent good. They did not put much pressure on me. They were by my side. I was there, and they got prayers for me from a pastor and after then I left," she said.
When she returned home, Dublin said, it was very difficult because not only was Amya not there, but her two other children had been taken into the care of Child Care and Protection Agency.
"I was alone really because my children was not there and then the father was not there. Being alone was hard but then I did not want to see anybody else and I did not want to talk to anybody," she said.
The girls were taken to their sister's funeral and were not immediately taken back into care, instead they were placed with their father's mother. They were eventually returned to their mother but in the interim, Dublin had to endure being blamed for her baby's death.
"There was a lot of pushing around and blame and it made me feel guilty. The father blame me too. And I don't think it was my fault really, but I was taking the blame for it because she was in my care. But what people don't understand is that I was out trying to provide for them," she said.
A mom at 15
Dublin became a mother at the age of 15 and she recalled that it was a great disappointment for her aunt who had raised her since she was a baby. While her mother is still alive, Dublin said, she and another sister were raised by the aunt who had no children but who sadly passed away after battling cancer. She died months after Eastman's oldest child, a boy who is now seven years old, was born.
"I don't know what it was but he [the father of her son] was bigger than me. Maybe I was looking for love, but my aunt was very strict so when I get pregnant she was very disappointed.
"Now I miss her more than when she just die because all these things are happening to me and I have no one to talk to," she said sadly adding that she also regrets disappointing her and bringing a child into the world at such an early age.
She shared that she met the father of her son while she was still at school; he was a minibus driver.
"He use to drop me home almost every day and he would tell me not to tell anybody about he. You know he much bigger than me, he must be in his late 40s, early 50s now," she said.
It was only after she gave birth at 15 that she understood why the man was so keen on ensuring that the relationship be kept a secret; the social worker at the hospital informed her that he committed a crime when he started having sexual relations with her.
"They ask me for some information and I give them, but I don't know if they follow-up and investigate but I get to find out that he had a wife and children," she said.
He had disappeared after she became pregnant, but she later got a number for him and called him and invited him to see the child. He showed up but did not commit to supporting the child and an argument ensued; the two have not spoken since.
"I does see him sometimes, but I don't even know if he could remember me. I never approach he or anything, I don't hate him, but I just don't want to remember."
Because she struggled with the child and had to take him to computer classes as she attempted to get her life back together, Eastman said a young couple offered to help her with the child.
"They fostering and now they have children of their own. I never sign he over they use to go to Child Care every six months and sign that he was in them care," she said. The last time she saw her son was December 25, 2016 and she hopes to see him again soon.
"I hope one day he will come and live with me, I working now trying to get my own home. I have to get a piece of land and then all my children can come and live with me. But when I see he, he don't look like he not happy. He look happy and he know I is he mother because the last time he call me mommy," she said.
She is employed with a domestic service but does not work every day; she gets paid per job. She also does domestic work for persons in her neighbourhood.
"I just hope for a better future. Right now I am fighting to go back to school and trying to give my two daughters the best and to make them happy. I hope one day my son will be back but for now is best he stays there because I think they can take better care of him."
Around the Web