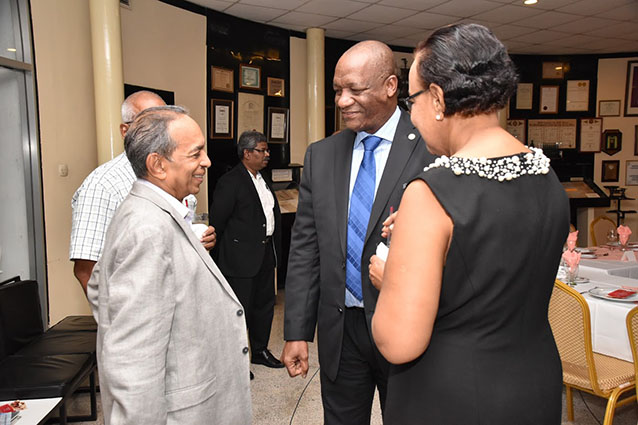 Tackling the brain drain, improving infrastructure and access to cheaper energy are among the main planks  in the private sector's 'Action Plan for the Sustainable Development of Guyana' which was handed over to government last week.
"The plan is workable and we see it as embracing government's Green State Development Plan and feel we will get the support from government and are now waiting to see the measures that will be implemented," Chairman of the Private Sector Com-mission (PSC), Eddie Boyer told Stabroek News yesterday.
He explained that the 17-page document covers myriad issues and offers structured recommendations which are easy to implement.
The document seen by this newspaper comprises "Actions or Recommended Policy Options and Pro-posed Public-Private Dialogues" aimed at developing the country though a holistic manner while providing key support to the PSC.
The recommendations fall under sixteen categories that range from Economic Stability, Export Markets/Trade, Competition and Consumer Protection Policy, Taxation Policy, Export Promotion and Facilitation, Access to Finance and Human Capital Development.
Other areas are Business Development Services, Infrastructure, Energy, Bureaucratic Procedures, Land and Property Markets, Sector Policies, Contract Manufacturing/ Services Exports, Business and Eco-Tourism and Governance & Legal Architecture.
But key among the recommendations and what the PSC wants addressed urgently is Human Capital Development.
The plan asks government to address this country's brain drain even as it puts measures in place to assess the strengths and weakness of the current policy framework for the retention and attraction of skills and to  identify policy options for improving skill retention and attraction.
The PSC believes that there should be a vibrant programme aimed at expanding and developing Technical and Vocational Training. "Develop Rapid Response Skills Training to meet urgent needs in basic technical skills through a multiplicity of training centres," one recommendation states even as the PSC underscored the need for National Apprenticeship Programmes.
Another recommendation calls for improving "current mechanisms for the collection, analysis and dissemination of labour market information and establishing a proper industrial classification of occupation, wage structure and trends in employment."
Upgrading current infrastructure and building new infrastructure was also another area that the PSC Chairman believes needs priority, as the PSC called for the establishment of  a unit that would see itself and government working on infrastructure Projects.
"Support reforms to address Guyana's capacity to finance, operate, maintain and expand urban infrastructure and services on a sustainable basis; ii) rehabilitate infrastructure and reestablish municipal services in Guyana's six urban municipalities… complete construction and rehabilitation of paved road network through completion of four-lane highway, the Harbour Bridge to Ruimveldt, resurfacing of Demerara Harbour Bridge and replacement of wooden bridges along West Demerara Road. Prepare a Secondary Towns Development Plan to improve the governance systems, infrastructure and the quality of basic services provided to Charity, Supenaam, Parika and Bartica. Steadily upgrade and improve maintenance of the Linden-Lethem road including bridges to support container trucks," are recommendations pertaining to infrastructure.
"Conduct a spatial analysis of the location of strategic sectors likely to drive growth and diversification and develop an action plan to serve their immediate, medium, and long-term projected transport needs. The construction of (a) deep water berth in Berbice, to reduce transport costs, develop a legal framework and policies for public-private-partnerships (PPPs), Develop more advanced road maintenance and bridge construction schemes, such as BOAT, to deliver higher quality roads and bridges along the entire transport chain," the document adds.
Optimal
And with the lack of access to cheap energy being a longstanding complaint of the business and manufacturing community, the creating of an optimal Energy Matrix; Mix of Hydro, Gas, Solar, Wind and Bio-Energy in the Energy Matrix of Guyana was highlighted  in the recommendations.
The local business body is asking that there be Business Participation in Energy Projects such as those between government and private companies.
Other recommendations include, but are not limited to, cheaper and reliable energy for manufacturing, the removal of VAT on electricity, provision of dedicated feeders to large consumers, adjusting of tariff to large manufacturers, providing of incentives for investments in renewable energy options and having government's energy policy updated.
With the Guyana Power and Light also recently announcing that it needs US$110M for a system upgrade, the PSC recommends that government accelerate initiatives aimed at grid improvements in transmission and distribution.
"These recommendations have been made to address issues affecting the Business Community over the last two decades which, if addressed, can lead to development of Guyana entirely," the document states.
"In summary, what the Commission has done was to review past documents, important reports and conversations to develop and bring forward unimplemented solutions," it added, while noting that elements of it can be traced directly to a number of reports. They are the  National Development Strategy for Guyana 2000; National Competitiveness Strategy 2006; Low Carbon Development Strategy 2009;  National Economic Forum 2013 and the more recent Guyana Business Summit 2017.
Last year, the Government and the PSC hosted the two-day Business Summit at the Marriott Hotel which was the brainchild of President David Granger. That summit sought to ensure that the interests of all business owners including farmers, fisher-folk, miners, loggers, traders and workers could be considered and that the event would set up the basis for consultation.
An outcome of that Summit was the crafting of the very plan handed over to government last week.
"We are hopeful that a permanent Institutional Mechanism to host Public-Private Dialogues can be created so that we can have in-depth discussions with our Government, Political Opposition, Trade Unions and Civil Society Representatives," Boyer said.
One of the crafters of the document, PSC Executive, Ramesh Dookhoo in repeating various elements of the plan underscored that the key to its success would be the creation of public- private dialogue bodies to have continuous development and overlooking the implementation of recommendations.
Minister of State, Joseph Harmon has already pledged a swift response to the action plan for development drawn up by the PSC.
Following the handing over of the document on Thursday, the Ministry of the Presidency quoted Harmon as committing government to an  analysis and responding to the report. He said that such engagements are aimed at bolstering the relationship between the Government and the Private Sector since the administration strongly believes that private enterprise is the engine of growth of the economy.
"We believe that we have to set the regulatory and the other frameworks, which would allow businesses to flourish and to provide that good life for the people of Guyana that we are talking about. So this dinner here tonight is basically my meeting with some of the CEOs [Chief Executive Officers] of major companies of the country to discuss the Green State Development Strategy (GSDS), local content in legislation and matters of that nature. I know they will also want to discuss how crime impacts their businesses so it is going to be a very interactive dinner. I am happy to be here to represent the views of the President and the Government so that the Private sector understands that this is what we are really about. If you have a well-functioning Government and a well-functioning private sector then it rebounds to the benefit of the Guyanese people and that is what we want," Harmon told attendees at the event, which was held on April 5th at Banks DIH –  the PSC's annual corporate dinner.
Around the Web