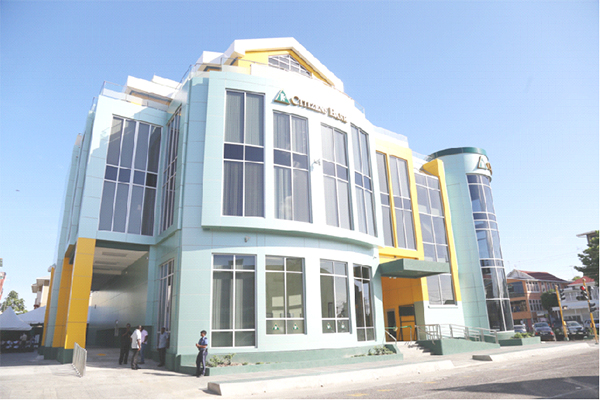 Citizens Bank Guyana Inc has established a correspondent banking relationship with the Bank of New York Mellon (BNY Mellon).
This will be seen as a significant development for the local bank in the wake of US banks and others ending their correspondent banking relationships and pulling out from jurisdictions like Guyana that are deemed to be money-laundering risks.
The so-called de-risking by the foreign banks had left local institutions struggling to maintain the services usually provided via the correspondent banking relationship such as wire transfers. Already on its website, Citizens – a subsidiary of Banks DIH – has issued new instructions for US$ wire transfers via BNY Mellon.
News of the link-up between Citizens and BNY Mellon was revealed on Saturday at the commissioning of the company's new vehicle workshop, located at the Caribanks facility obliquely opposite Thirst Park.
"It is that confidence [in the economy], I am advised by Chairman (Clifford)
Reis and verily believe to be true that has motivated Mellon Bank of the United States of America to establish banking relations with Citizens Bank an indigenous bank," Minister of State Joseph Harmon told those gathered at the opening of the workshop.
He added that "this is happening at a time when the Caribbean Financial Action Task Force has noted that many are taking steps curbing and reducing relationship between Caribbean banks and international banks and when amidst all of that we can step out of the Blacklist, Grey-list, Whitelist or whatever list exist, it is a sign that Guyana is on the right path of development."
Over the last five years concerns about meeting new, stricter rules related to Anti-Money Laundering and Combating the Financing of Terrorism (AML/CFT) have led correspondent banks to terminate their relationships with their local partners.  While this trend has affected countries around the globe, the small economies of the Caribbean have been hit especially hard.
On its website BNY Mellon describes itself as an investments company. "We provide investment management, investment services and wealth management that help institutions and individuals succeed in markets all over the world. In the region of Europe, the Middle East, and Africa, which we have been serving since the 1900s, we deliver services to a broad range of clients seeking access to global capital markets", it said.
Around the Web