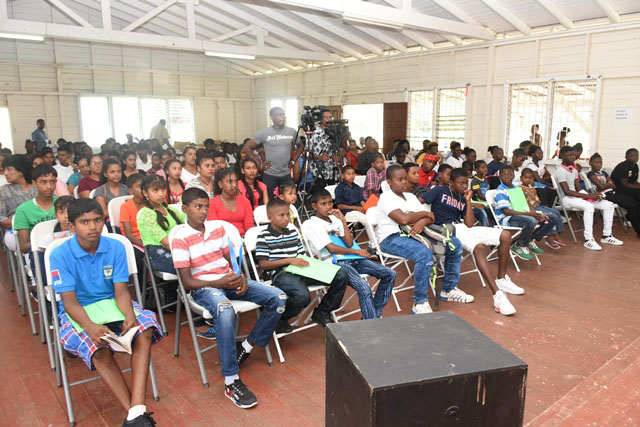 Young people from across Regions Three, Four, Five and Six yesterday benefited from a conference organised by the Community Policing Group (CPG) and heard Minister of Public Security, Khemraj Ramjattan express alarm at the age at which drug abuse is beginning.
According to the Department of Public Information (DPI), the event was held at the Mahaicony Community Ground and forms part of the CPG's 42nd anniversary celebrations.
During the conference youths were educated on the role they can play in reducing violence and crime; anger management and conflict resolution, career guidance and gender-based violence.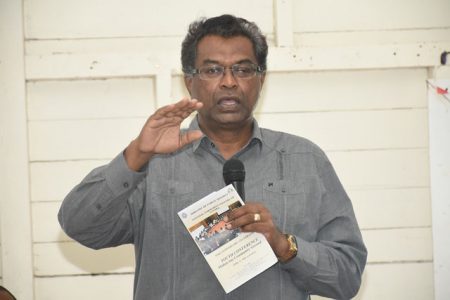 Ramjattan, in his feature address, reiterated the critical role youths can play in crime reduction and adverted to studies that have shown that if negative practices are arrested at an early age, there will be a reduction of crime in the society.
According to DPI, Ramjattan also referenced findings in two recent surveys conducted in Guyana – the Household Drug Prevalence Survey and the Secondary School Drug Prevalence Survey which he described as troubling.
"It was startling the findings of these two reports. Young people at the age of 11 smoking cigarettes, smoking cannabis and marijuana and even indulging in ecstasy… now that we are getting the results from these surveys and findings, we have to target our young people," the minister stated.
The minister told the participants to ensure they seize every opportunity to be educated.
"What lasts and what makes your society a better society is when you pick up your books, when you read when you become a professional. Whether it is a lawyer, doctor or even a mechanic or a professional in the sense of being a farmer that knows how to do farming or livestock, whatever it is, all of these matter because you will be providing a legitimate service to your society and you will be a unit in the population that is going to ensure that we live the happy life that all of us want,"  Ramjattan said.
The Public Security Minister also called on parents to play a bigger role in the lives of their children. He asked that parents reacquaint themselves with the practice of acquiring books for their children to read.
DPI said that the conference is part of the Ministry of Public Security's Citizen Security Strengthening Project (CSSP), a $3B five-year programme which has three components and is funded by the Inter-American Development Bank. The conference falls under component one 'Community Crime & Violence Prevention'.
This component will see preventative strategies to reduce crime and violence in 20 communities across five regions. The communities include Buxton and Friendship and Vigilance,  Vreed-en-Hoop and Westminster, Albouystown, Charlestown, Sophia, South Ruimveldt Park and Gardens and North Ruimveldt, Alberttown and South Cummingsburg, Kingston and Lacytown, La Penitence and West Ruimveldt, Agricola and McDoom, Mocha and Providence, Annandale and Lusignan, Wismar, Angoy's Avenue, Rosignol, Enmore and Haslington, Friendship and Kildonan, Albion and Fryish, Port Mourant and Rosehall and Adelphi Village and Canefield.
Around the Web