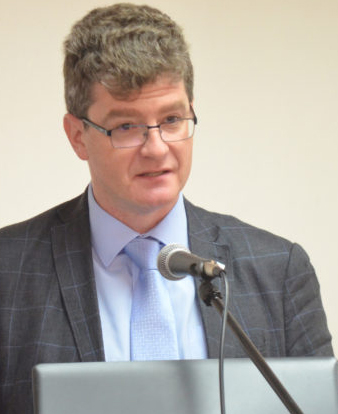 British High Commissioner to Guyana, Greg Quinn yesterday said that there is no place for corruption and law enforcement officials who are guilty of this crime must be sent to jail.
"There is no place for corruption with the security agencies in Guyana. If officials and individuals cannot work with honesty and integrity then they should be drummed out, prosecuted and imprisoned as necessary…Security agencies cannot expect respect and co-operation from the public, if they themselves are not willing to operate within and be subject to the law. All of you here today can and must set the example for everybody else to follow", he said.
He was speaking at the launch of an anti-corruption training programme for 30 persons from several law enforcement agencies at the Police Training Centre at Eve Leary.  The programme is being funded by the United Kingdom.
All the participants, he stressed are on the frontline of work to tackle bribery, fraud and corruption but "with that position comes responsibility". He told participants that they and colleagues will be held to the highest levels of probity. "It is therefore incumbent on each member of the security agencies to fulfil their tasks to the highest of standards", he said.
Quinn said this is the latest round of training for Guyanese law enforcement officials as part of the UK's support to security sector reform. He said that the course which will run over the next two weeks is focused on fraud, bribery and corruption and will provide an introduction to investigating these types of cases which are serious and complex.
He said that week one will concentrate on investigation methods for fraud and week two, investigation methods for offenses and occurrences of bribery and corruption. The participants, he pointed out will be exposed to an examination of major bribery and fraud scenarios designed to allow them to put into practice what is being learnt.
He said that over the past month and years the UK had expressed a commitment to Guyana in security sector reform. "Today is but the latest example of our work in that area and builds on work already undertaken including under the auspices of Russell Combe", he said, adding that Combe will be returning to Guyana shortly for a further one year appointment as the security sector reform advisor to the president. On January 18 this year, Combe submitted a security reform plan to the President. It has thus far not been made public.
Around the Web