Hofosawa Awena Rutherford was yesterday afternoon sentenced to a total of 98 years in jail for killing her two children, Hodaciea Cadogan and Jabari Cadogan Jnr, whom she poisoned in 2014.
Justice Navindra Singh, who sentenced Rutherford on two counts of man-slaughter for the killing of four-year-old daughter Hodaciea and one-year-old son Jabari Jr, said he could not understand why the woman was not indicted for murder, while noting that he found the killings to have been premeditated.
"Everything points to murder," the judge opined.
Referencing the evidence presented at trial, Justice Singh said he could not fathom how Rutherford could possibly have mistaken the rat poison that she administered to her children for anything else.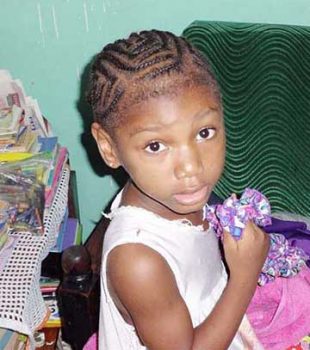 Her claim had been that as far as she knew she had bought and given to them "cold tablets."
The judge remarked that the poison, in the form of carbon tablets, carries a pungent odour, which would have become evident from the moment its packaging was opened.
He said the fumigation scent would not be missed as such tablets do just that, "fumigate."
Meanwhile, in her brief address to the court, a tearful Rutherford begged Justice Singh for mercy, declaring that she has her imperfections and has made her fair share of mistakes.
"I am not perfect. I have my shortcomings and made my mistakes in this life," the woman said, as she turned towards her many relatives seated in the public gallery to whom she apologised for having caused shame and pain.
"I am sorry for all the shame and pain I caused to you," she told members of her family, who at that point were also moved to tears.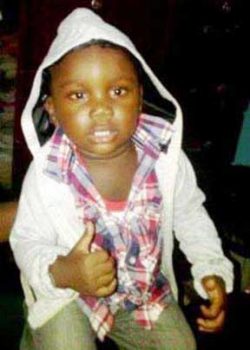 A sobbing and barely audible Rutherford, who professed her love for her children, said that no one in the world could have loved them more than she did, while adding she prayed their souls rest in peace.
While the woman begged for mercy, however, State Prosecutor Abigail Gibbs asked the judge to impose the maximum penalty, while highlighting the manner in which the children's lives were taken from them.
There were sighs of distress from the woman's family when Gibbs made the call for the maximum penalty.
In an impassioned address, Gibbs said that Rutherford knew exactly what she was doing.
"Their lives were taken by their own mother," the prosecutor lamented, before adding that the woman's role was to love and care for them, but that she had instead failed them both in this regard.
Addressing defence attorney Adrian Thompson's earlier submission of his client having had "a hard life and financial challenges growing up," Gibbs emphasised that such circumstances do not justify killing, "especially your own children."
For his part, Thompson, who begged for mercy on his client's behalf, said that having reviewed the probation report done on her, he gleaned that "the circumstances of her upbringing were not ideal."
He said that the young woman dropped out of school at age 16 after becoming pregnant, and that she had also lost her mother at a tender age.
In spite of these challenges, however, Thompson said that Rutherford forged ahead and had been in the process of seeking employment with the Guyana Police Force.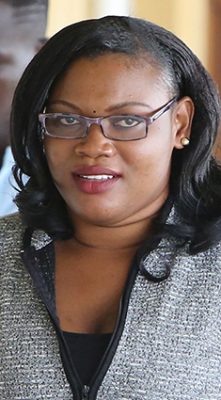 According to counsel, the woman had not only been beset by financial difficulties but she had also not been in the best of health "mentally."
The lawyer declared that "stress can cause people to do things which they would not have ordinarily done," noting that the woman was still grieving and therefore he pressed the judge to use his discretion in sentencing.
After expressing his bewilderment over the charge of manslaughter being instituted instead of the capital charge, the judge took the position that Rutherford knew what she was doing.
From her address to the court, however, Justice Singh added that it seemed the woman had finally accepted what she had done.
Emphasising that he had found evidence of premeditation, the judge commenced sentencing on each count at a base of 30 years. He then added 10 years because the victims were children, five years because they were the convict's children and another five years for the use of poison.
Thereafter, he added an additional 10 years for what he found was a premeditated act.
Therefrom, he subtracted eight years from the first count for the probation report and another seven years from both sentences for Rutherford's expression of remorse.
On the first count, the woman was sentenced to 45 years and on the second count to 53 years.
The judge ordered that both sentences be served consecutively, with remission of some four years for time Rutherford would have so far spent awaiting trial on each count.
Many in the courtroom, which was almost packed to capacity, cringed after the sentence was delivered.
Rutherford was convicted by a jury on March 15th but her sentencing had been deferred to yesterday to facilitate the probation report. That report was laid over to the court by Probation and Social Services Officer Jo-Ann Samuels-Grant.
It was not read to the Court.
Rutherford had collapsed subsequent to the jury foreman announcing the verdicts.
It was the state's case that the young woman deliberately administered rat poison to her children.
The two children died on March 27th, 2014, moments after Rutherford administered carbon tablets—a pesticide commonly used for killing rats—to them. Her claim was that she thought that she had given them cold medication. Rutherford was herself hospitalised for some time after drinking the tablets also.
Prosecutor Tiffini Lyken, who led the state's case had asked the jury to consider the pungent odour that carbon tablets carry and the unlikeliness of those being confused with any sort of cold tablets.
She had asked the jury to rubbish Rutherford's claims of ever purchasing cold tablets for the children as no evidence supported the assertion that they were even suffering from colds at the time.
According to a caution statement police said Rutherford gave, she claimed she purchased cold tablets from a man who also sold rat poison and "other stuff" on the road at the Plaisance Market.
Referencing the caution statement in which Rutherford told police about having problems and being frustrated while awaiting word on her application for a job as a traffic warden with the Guyana Police Force, the prosecutor stressed that it was because of this frustration that Rutherford killed the children.
In her address to the court at the close of the prosecution's case against her, Rutherford, in unsworn testimony, had stated that she never gave her children carbon tablets, but rather administered to them what she believed to be "cold tablets." "I did not buy rat poison for my children," she declared.
The state's case was represented by Lyken and Gibbs, in association with Prosecutor Shawnette Austin.
Around the Web