Ongoing works on the Mon Repos Bridge along the embankment road snared traffic for hours along the East Coast yesterday morning.
Long lines of traffic on both lanes of the East Coast Highway, stretching from Better Hope and reaching as far as Coldingen, moved at a snail's pace, while the traffic police tried their best to regulate the flow of traffic.
However, despite ranks being stationed at almost every intersection along the road, there was still a large buildup of traffic.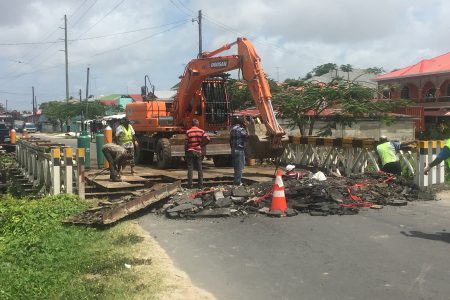 With the ongoing road upgrade and expansion works along the highway, motorists have already been forced to carefully manoeuvre through the construction zones and this often results in congestion when coupled with the morning rush hour traffic.
However, the situation was made worse due to traffic being redirected from the Embankment Road to the highway due to ongoing repairs to the Mon Repos Bridge, thereby increasing the congestion.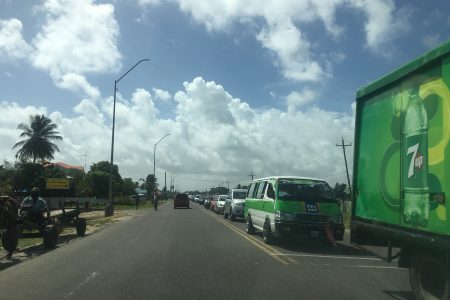 "I can't tell you how long I deh here in this traffic. I coming til from Enmore and only now I reach BV [Beterverwagting]. I deh in the line, long, long, and is nah like it moving at all. I see the police trying to control the traffic but them man not even doing a good job because look what going on," Ramesh Singh, a driver, told Stabroek News yesterday.
Singh said he had been in the line for more than 40 minutes but was not able to get far.
"I don't know why they would decide to do the bridge on a bright Monday morning that school opening. When school open, the road normally has a lot more traffic. So you adding the school traffic, the normal peak time traffic and the traffic that getting redirect because of the bridge and this is what you get. Bare confusion and traffic barely moving," Singh noted.
The man also pointed out that even though it was past 9 am, part of the Embankment Road was still being used as a two-lane road for traffic traveling west, which he said was not a good idea.
"After 9, the road does change back from two lane to normal but after a point they keep it two-lane and they shouldn't have done that. They should've put it back normal so that traffic going up would've had the extra road to travel and it would have helped the whole situation," Singh noted.
As the hours passed, the congestion had barely eased up. Around 11 am, there was still a long line of traffic. After 10 am, school children and other persons were still standing on the road trying to get public transportation.
"I am just frustrated right now. A bright, bright Monday morning and this is what greets you before you go to work. I'm already late and there's nothing I can do about it. I am just praying that tomorrow and the other days are better because I can't deal with this," another driver said.
Around the Web