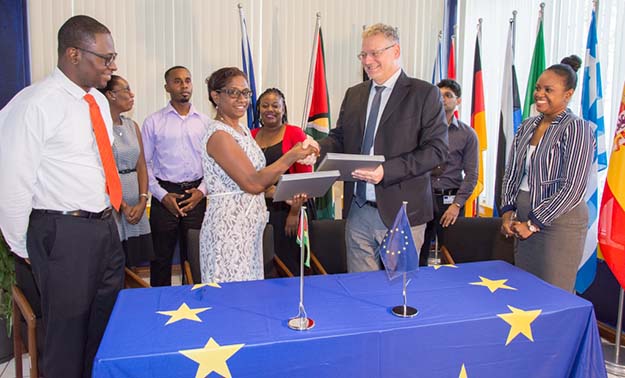 Local NGO, ChildLink has secured a grant from the European Union (EU) of $87.7m  to reintegrate 749 children living in institutions and 2500 children at risk of institutional care in Guyana.
Entitled "Recovery, Safeguarding and Reintegration (RSR)", the objective of the project is the adoption of international guidelines and policy for children's reintegration in line with the United Nations Convention on the Rights of the Child [UNCRC] for the children in question, a release from the EU said yesterday.
The contract for the grant was signed by Ambassador Jernej Videtič, Head of Delegation of the EU to Guyana and Omattie Madray, Managing Director of ChildLink. 
The grant is drawn from the European Instrument for Democracy and Human Rights (EIDHR) 2017 country allocation for Guyana. The project will run for the next 30 months.
The release said that ChildLinK has been working with the Childcare and Protection Agency (CPA) for the past ten years and has launched the Child Rights Alliance (CRA) with funding from the EU to bolster child protection services to prevent abuse and increase the care of children across Guyana.
The RSR initiative extends protection services and places emphasis on institutional strengthening of the CPA, children's institutions and civil society organizations (CSOs) to improve reintegration services for 749 children living in institutions across Guyana. The release said that this is a fundamental right of children in line with the UNCRC, Art. 9 & 18 which clearly state that children have a right to live with their parents or a safe family.
At the ceremony, Videtič said, "Human Rights are one of the core values of the European Union and its Member states. The European Instrument for Democracy and Human Rights provides the possibility to support civil society projects in this area also in Guyana. The rights of vulnerable groups, especially children are particularly important in this regard and this fifth ChildLinK proposal convinced us again".
ChildLinK Inc was established in  2009 and its mandate is to work with its partners towards a Guyanese society where every child has the right to grow up in a safe and secure family and community. ChildLinK Inc has previously received four grants totalling over $200m all funded from the EIDHR initiative.
Around the Web