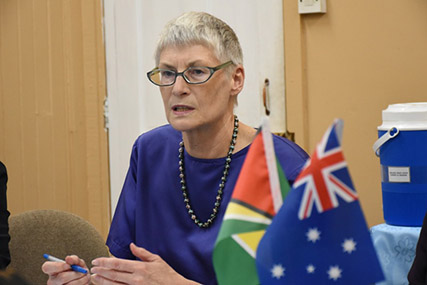 The Trinidad-based, Australian High Commission's First Secretary and Consul, Susan Ulrich paid a courtesy call to the Georgetown Public Hospital Corporation (GPHC) on Tuesday  in an effort to strengthen ties.
A release from the Department of Public Information (DPI) said that the courtesy call included a discussion of the hospital's procedures with GPHC's Chief Executive Officer (CEO), Brigadier (ret'd) George Lewis, Chair of GPHC's Board, Kesaundra Alves, Director of Medical and Professional Services, Dr. Sheik Amir, Director of Nursing Services, Keith Alonzo, and Public Relations Officer, Mitzy Campbell.
According to Ulrich, the visit will aid her government to better understand what services the GPHC has to offer in the likelihood that Australians or other nationals in Guyana require urgent medical care.
"The most effective way we can deliver services to Australians is for us to understand how systems work in those countries for which we provide coverage and establish relationships so that we can work with the hospital, the police, the prisons to look after the welfare that may come to their attention", Ulrich stated.
She noted that boosting relations with the varying service heads has already been proven to help in many cases. She was also advised on the various processes for payment, insurance, and travel arrangements.
Around the Web