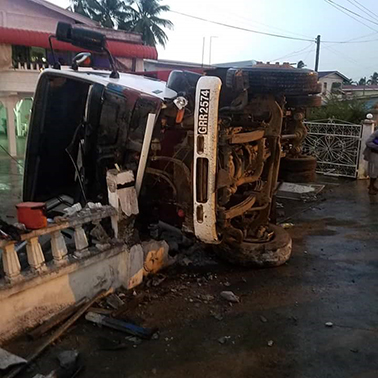 Several Berbice cane harvesters were rushed to the Fort Wellington Public Hospital yesterday morning, after the lorry they were travelling in suddenly toppled on the Number Two Village, West Coast Berbice Public Road.
According to one of the workers, almost fifty cane harvesters were in the lorry heading to the Bath Estate Road, when the Blairmont Estate lorry, licence plate number GRR 2574, toppled around 5.10 am.
The driver of the lorry, Wahid Khodabux, 37, of Cotton Tree Village, West Coast Berbice explained that he was heading west when he attempted to stop for a worker and his brakes failed, which resulted in the lorry skidding off the wet road and toppling.
Relatives of the workers, after hearing of the incident, immediately rushed to the hospital. Stabroek News was told at the hospital yesterday that most of the workers suffered minor injuries. They were treated and sent away while two workers who received "hard hit [s]" were admitted for observation.
Meanwhile, a resident of the Number Two Village said, "The driver was gonna stop for one workman but when he apply brakes the truck nah brake and he topple in the fence, the road been wet too".
The workers in the truck were from Rosignol and Cotton Tree, West Coast Berbice.
According to residents, other lorries, which were travelling to the Bath Estate Road, stopped at the scene to render assistance. "It had other lorry with Rose Hall [Estate] workmen and they did passing going too and them stop after", the resident said.
Around the Web