Residents of Kumu village in the Rupununi, who have had to resort to accessing their emergency water supply in the midst of an extended dry period, are calling on the Guyana Water Incorporated (GWI) to fix the community wells.
In a release sent out yesterday by Green Mango Media, Kumu Village Senior Councillor Emeric Francis related that a correspondence was sent to the Regional Chairman last month, reporting the low water supply within the Region Nine village and highlighting the urgent need for pipes to deliver water to one of two wells within the community.
Francis stated that while he was informed that the region was in possession of the pipes, the village is yet to receive them.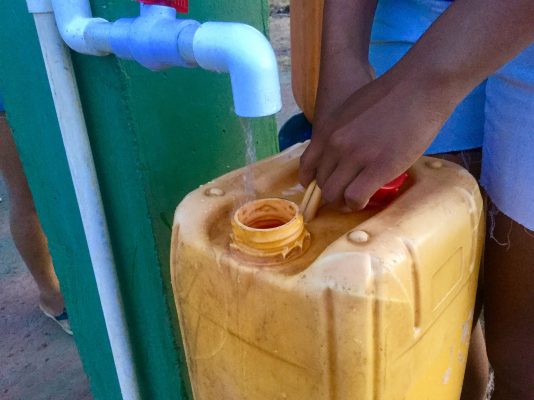 Furthermore, he reported that the second well is delivering mud instead of water, and while GWI is aware of the issue, and a representative reportedly visited last Friday, no one has returned to address the situation, as was promised.
GWI Public Relations Officer Leanna Bradshaw, when contacted for a comment yesterday, said that there was none at the time.
"Kumu residents are hoping that the rainy season starts before our emergency tanks run out of water. We badly need those pipes and a solution for the muddy well," Francis was quoted as saying in the release.
The Councillor related the seriousness of the situation within the village, where he said "residents, including children, queue early in the morning and late at night with buckets and bottles for drinking and bathing water", which they were receiving from water tanks designated for emergency purposes.
Francis relayed via telephone last evening that it has rained very little in the past few months, commenting that this month is even drier than the last.
"We don't know when raining season will start. We expected rain by now, but nothing. Instead, we see our fish in the creeks all dying because just mud is left. We have experienced dry spells in the past and that is why we have pushed for the wells. If the dry spell continues and our wells are not fixed, we are going to be struggling to survive on very little water. Also, we may not allow visitors to the Kumu Falls. The situation is that serious," Francis expressed in the letter.
It was stated that the Kumu Village, located at the foot of the Kanuku Mountains and which is home to 400 residents, is becoming a popular tourist site for those interested in climbing, bird watching and viewing the Kumu Waterfalls.
It was noted that with the changing climate and consequent change in local weather patterns, the traditional way of life for villagers has become difficult.
Around the Web