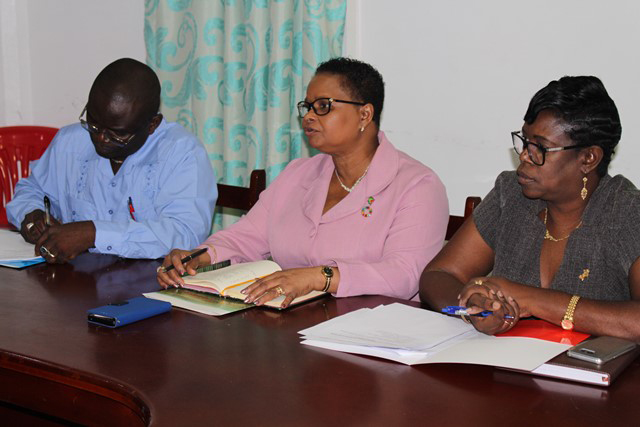 Minister of Public Health, Volda Lawrence and the Permanent Secretary of the Ministry of Communities, convened a meeting with Regional Health officials and Regional Executive Officers of Regions Two, Three, Six, Seven and Ten to address the issues affecting the health sector.
The Department of Public Information (DPI) said that the discussion which took place yesterday  afternoon dealt with issues relating to regional administrative shortcomings and its effect on the health sector. These included Human Resource and employment matters, inadequate provision of living quarters for medical professionals, the process for purchasing emergency drugs and medical supplies, the non-payment of suppliers and incomplete and inaccurate information being provided through Logistic Management Information Systems (LMIS) reports for some regions
DPI said that the Minister also said that the "unprofessionalism of medical and administrative staff in these regions, especially at regional and district hospitals is appalling and must be looked into".
Lawrence said these issues affect the overall provision of health care and require urgent intervention. Noting that much of these issues fall under the purview of the regional administrations and the Ministry of Communities, the minister said there is a need for stricter monitoring of resources and prudent management of the sector.
There are plans for the Health Minister to visit each of the respective regions in order to receive updates and "tighten loose ends" relating to the matters identified.
Three years into the life of this administration, the health system continues to be plagued by drug shortages and other problems despite repeated assurances that systems are in place. Drug shortages at the Linden Hospital Comples and the Skeldon hospital resulted in industrial action.
Around the Web