A Corentyne resident who was diagnosed with 'wind' at the Port Mourant Hospital last Sunday evening had to undergo emergency surgery at the Georgetown Public Hospital early on Monday morning.
The man, Oneil Jordan, 32, of Kiltairn Village, Corentyne was diagnosed with a Perforated Hollow Viscus (ruptured gastrointestinal wall) by doctors at the Georgetown Public Hospital (GPH) on Monday morning. Jordan is presently recovering in the Intensive Care Unit, his relatives said on Wednesday, after they had rushed him to the city.
His sister, Malinda Burgess of Lot 65, Den Amstel Village, West Coast Demerara explained to Stabroek News that on Sunday she rushed to Berbice after she received a phone call about her brother's condition, from extended relatives in the Corentyne area.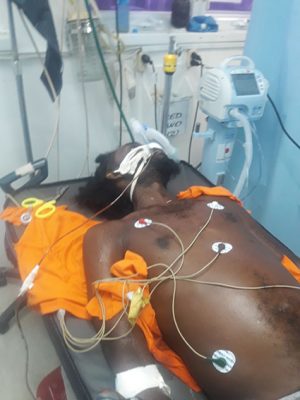 She arrived on the Corentyne at around 8 pm and immediately took her brother, a father of two, to the Port Mourant Hospital, where they met a male doctor.
She recalled that her brother was vomiting profusely and complaining about a pain in his chest. "He tell the doctor how he chest hurting he inside out and he vomiting all the time," she recalled.
However, despite all of these symptoms, the doctor had only two questions for her brother; when last he had something to eat, and when last he consumed alcohol.Burgess relayed that her brother informed the doctor that he hadn't eaten anything over a couple of days, since he would vomit everything he ate, and that he drank a small amount of alcohol during the Easter holidays.
"The doctor then call the nurse to give him an injection for the pain and two pink tablets and he (the doctor) tell me take him home and give him something hot to eat, he have wind," she recalled, while adding, "He didn't even touch my brother or run any test and check his vitals".
The woman believes that based on her brother's appearance the doctor made an assumption, rather than running the relevant tests and performing a proper diagnosis of her brother. "Even if mad people or drunkie go to the hospital they supposed to be looked after, my brother wasn't none", she added
.According to Burgess, they were at the Port Mourant Hospital from 8.55 pm Sunday to 1.25 am on Monday, and her brother's condition only deteriorated during that time. Burgess is in possession of video footage of her brother vomiting at the hospital without any medical professional tending to him."We left stranded there, no car or bus wasn't working. I beg them for the ambulance to just drop us at New Amsterdam, but they say they can't because if an emergency come and the ambulance is not there they will get in trouble", she said.Since Jordan's condition was not listed as an emergency by the medical personnel there, the duo had to fend for their own transportation. She added,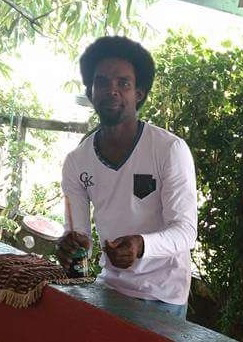 "My brother asked that if he could have a bed to lay down on because the bench was too hard for him, because his back was in pain and they refuse him that too. All this time my brother was there vomiting and I ask all these favours and didn't get no help from them," the devastated woman recalled. Burgess then decided to rush her brother to the Georgetown Public Hospital (GPH), since she realised that his condition was slowly deteriorating.
"We meet Georgetown Hospital about three [am] Monday morning, and them had to resuscitate me brother, he hands and body did cold, cold, they run test, and they said he need emergency surgery, and them advise me what could happen during the surgery, and then I sign off on it", Burgess recalled.
According to Burgess, she has decided to speak out on the matter since she is afraid that other patients will receive the same treatment from this doctor at the Port Mourant Hospital.
"My brother could have died, what about the other people that go home back and can die", she questioned.
Burgess has since filed a complaint at the Ministry of Public Health, and is calling on the relevant authorities to look into the matter immediately.
Around the Web