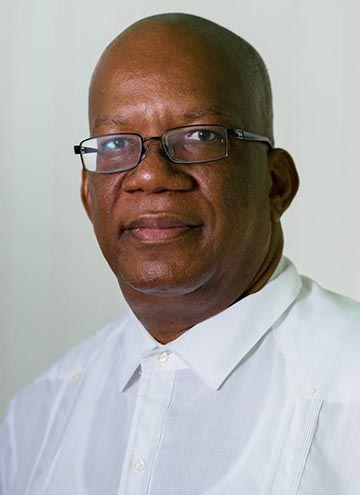 Guyana's Gross Domestic Product (GDP) growth for last year was 2.1%, falling short of government's projection of 2.9%, and the 2016 figure of 3.3%, Finance Minister Winston Jordan said yesterday.
"No more guessing. The economy did not perform as robustly as we expected during last year …at the end of the day, it turned out to be even worse than we predicted. So, even though there was positive growth for last year, the growth rate ended up being 2.1%," Jordan told a press conference yesterday.
Jordan's press conference came in the wake of concerns that the government was not releasing figures on the 2017 performance.
The actual GDP growth for 2016 was 3.3%, which was higher than the 2.6% that was projected at the time of the presentation of the 2017 budget.
Jordan told reporters yesterday  that by the second quarter of last year, government knew and was predicting that the economy would not do well, having factored in the issues with the sugar sector here as it made that assessment. However, he said it was still disappointed.
Giving a breakdown of the performance in the sectors which contribute heavily to the economy, Jordan said that in addition to sugar, gold and bauxite also did not meet given projections.
"Sugar we had budgeted at 218,000 tonnes (but it) came in at only 137, 307; rice did quite well… we anticipated 600,000 tonnes and it came in at 630, 104 tonnes. Bauxite, that again did not do quite well. We had budgeted 1,726,008 tonnes, bauxite came in at 1,459,223 tonnes. Gold has been a major disappointment – budgeted 694,000 ounces, gold it came in at 653, 674 ounces. Forestry did reasonably well. The sector is now showing signs of recovery after a lapse over the previous two years. We budgeted 318,000 cubic meters and it came in 349,900 cubic meters.
"As you can see, very indifferent performances in the sectors and I think I have been quite open with you when it comes to this economy. This economy has not changed much over 50 years; it depends on one or two products which depend on what prices are. So one day you are up when gold is up and another you are down when sugar, or rice is down and the second thing is our critical sectors have always depended on some grandfather, so to speak, and that grandfather being a protectionist market," Jordan said.
In the case of sugar, Jordan reasoned that the industry was never prepared for the current, ever- changing technical complexities of the global financial markets and therefore suffered.
"For sugar, it was the ACP (African, Caribbean and Pacific) market, in the case of rice…rice has always had some kind of a grandfather market…latterly (the) Venezuelan market but prior to that, Trinidad was buying our rice at exceptional prices when oil prices went up significantly. Trinidad bought our rice at exceptional prices that caused production to expand. As you know, the Venezuelan market is no longer available officially, and therefore the rice industry declined a little bit," he posited.
But rice has "in a short space of time been able to rebound" and shown much promise and continues to meet and surpass projections. "To such an extent that this year we are looking hopefully at significant improvements, even on 2017 and for the first crop already, it has been doing quite well. This has been boosted by reasonably good prices and new markets that we have been able to get – Mexico was asking for as much as we can produce, Cuba the same thing as much as we can produce and I think farmers would be buoyed by the optimism shown," Jordan related .
Allaying fear
And with the government recently expressing concerns over the implications of United States' sanctions against Rusal's Russian owner, Oleg Deripaska, and the operations his bauxite company has here, Jordan was optimistic that there would be no fallout.
Reading from correspondence sent by the German shippers of Bauxite Company of Guyana Inc (BCGI), Oldendorff, Jordan said that operations will continue as per normal.
"Bauxite, you know what has happened in the case of Rusal but I have gotten this note yesterday that came from Vladimir Permyakov, who is the Rusal representative in Guyana and he texted: 'Dear Minister, I am pleased to let you know that Oldendorff Carriers Guyana Inc. [OCGI] informed BCGI management that OCGI resumes its on-loading and trans-shipping operations in Aroaima and Kurubuka. Such a decision came after talks between Rusal and Aegon Oldendorff company, headquartered in Germany. Accordingly, BCGI resumes its full scale mining and production activities. The company is still committed to its business and social engagements in Guyana.' That should be some relief for Guyana, our workers, and our expectations for growth for 2018," he said.
"I hope that allays all the fears that would have been expressed, at least for the time being," he added.
Stabroek News had been told that in the wake of the US sanctions on Deripaska, workers at the Berbice operations had been told that further loading of bauxite would be on hold. This appears to have been a as a result of Oldendorff needing to hold talks on the matter.
Opposition People's Progressive Party/Civic (PPP/C) Member of Parliament Irfaan Ali had accused Jordan on Thursday of not being open about the state of the economy as four months into the new year information had not been forthcoming. He said that the silence was a signal that Jordan knew that the economy was in crisis and wanted to hide information that would reveal that and it was why only a statistical abstract was made public.
"After almost four months in the new year, we are yet to be provided with data that captures the actual performance of the economy for 2017. To date, we don't have access to any official statistics from the Bank of Guyana or the Bureau of Statistics regarding: production, aggregate expenditure, employment, inflation, international trade and balance of payments, public finance, and public debt," Ali charged.
"The only data publicly available are those in the statistical abstract, which is limited to the performance of the banking sector. If we were to analyse data in the statistical abstract, however, we would find abundant evidence that the economy is in crisis," he added.
Ali believes that the "dismantling" of the rice and sugar sectors is contributing to the erosion of the International Reserves of the Bank of Guyana and withdrawal of foreign currency from the foreign exchange market.
"Given the overall contraction in the economy, businesses and households are finding it difficult to honour their debt obligations. This is evident from the exponential increase in non-performing loans," Ali posited.
But Jordan said that in the fiscal area, Guyana was doing exceptionally well. "Revenues remain buoyant and continue to be exceptionally buoyant. Expenditure has been held in line and therefore the outcome has been a deficit to GDP that was slightly smaller than we projected," he said.
The Finance Minister believes that 2018 will be far better for the country.
"In terms of 2018, we are looking forward to a better performance than 2017—if only because coming from a lower base, it is easier to rise than if you have a higher base attempting.  The climb tends to be steeper coming from a higher base. On that alone, we should be doing better in 2018 but sectors, except sugar—sugar is going to do poorer than it did even last year. Sugar is not slated to do anything better than that. In fact, it is going to be worse than that. Relative to the projection we made about in the budget…It is going to shortfall by the end of the year," he said.
Around the Web