Rejecting suggestions of any conflict of interest because he was once a director of a locally-registered oil company, the Deputy Director of the Petroleum Directorate Nicholas Chuck-A-Sang says qualified Guyanese in the sector should be encouraged to serve their homeland without concerns that they will be influenced by their former employers.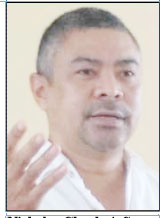 "We need to ensure that the best skills and the best people are trained and become, if possible, part of the government and on our side to ensure that the development of Guyana is put on a pedestal. You want those domestic skills," Chuck-A-Sang told Sunday Stabroek in an interview.
"You want Guyanese to choose that role and they should never be asked to choose between working in the industry and being able to serve their government and [having] that called into question whenever they do that," said the geologist by profession, who also worked for several years with the Guyana Geology and Mines Commission (GGMC), the local regulatory agency, which would soon be replaced by a Petroleum Commission.
A former director in the Mid-Atlantic Oil and Gas Inc. company, Chuck-A-Sang said that he was able to use the skills he acquired in that capacity and effectively transfer it to his current role within the Petroleum Directorate.
Mid-Atlantic was incorporated here on April 8th, 2013, with Fazal Hosein of 1124 Paria Avenue, Chaguanas, Trinidad and Tobago, listed as a director. Chuck-A-Sang and the Marriott Hotel's Chairman Hewley Alphonso Nelson were also listed as directors. Chuck-A-Sang ceased being an executive of the company on October 1st, 2015 and was replaced by Glenn Roland Low-A-Chee.
He explained that he is in no way connected to that company any longer and he has not been connected to any other during his nearly one-year stint at the Petroleum Directorate.
Further, Chuck-A-Sang assured that he has no interest, financial or otherwise, direct or indirect, with any of the companies that do business with or is in the local oil and gas sector.
"From the time I took up the position as Deputy Director of the Petroleum Directorate, I Nicholas Chuck-A-Sang have had no association with any oil and gas company, no organisation, no shares, no affiliation," he responded to questions posed by this newspaper.
With a BSc in Exploration Geophysics, a Masters in Petroleum Engineering and a law degree, all from the University of London, Chuck-A-Sang, 45, applied for the current position last year and was successful.
He was appointed as Deputy Director in May of 2017 and has been working in that capacity since then. However, with no head of the Petroleum Directorate, he continues to work in the capacity as head of the body and will until the Department of Energy (DoE) is set up.
Among his duties are overseeing of the effective operations of the department, while providing support to other bodies undertaking various works, such as in the areas of the reviewing of the Petroleum Commission Bill.
Technical input
In addition, he leads the department in its implantation of and evaluation of policies that aim to promote and sustain a vibrant petroleum sector, while simultaneously providing strategic tactical and operation advice on sectoral issues.
He made it clear that the Petroleum Directorate does not make laws but is a support system, providing the framework to monitor the oil and gas sector so as to ensure that operators adopt best practices that meet international standards, even as it supports government in its developmental plans for the sector.
"It [the Petroleum Directorate] was always to deal with policy…The Directorate was always to continue in policy …what we look at was the broad framework which regulates the entire industry," he stressed, before adding that it does not deal with recommending or licensing any company.
"We provide technical input. So if technical input is sought, and they [another agency] would say review this document, we would provide that, but we do not make decisions on who gets petroleum licences and who does not get petroleum licences. We don't make that decision," he explained.
Asked if the documents from any company would come to his department, he noted that "The agency for receiving documents is the GGMC at this point and time. They are the regulatory body."
And on achievements since the nearly one year existence of the agency, Chuck-A-Sang outlined myriad accomplishments, while pointing out that because it was in its infancy, much more is on the agenda to be done.
"We have achieved quite a bit. I think you remember GIPEX (Guyana Inter-national Petroleum Business Summit & Exhibition). We worked closely with Go-Invest. GIPEX was a project that started at the Ministry of Natural Resources and one in which we played a part all the way to the end. That, I believe, was by most [estimations] one of the high points. GIPEX was one of the successes for us. We also fed into reviewing some of the legislative documents that are being drafted. That is still ongoing and we continue to feed into that process. There is local content, where we basically worked along with Tony Paul in developing the draft local content policy and that has gone a far way; towards a second draft," he said.
"Capacity building is our big area. We also assisted in doing all the consultations for the local content draft throughout the country. A big part of the department is the support and providing technical advice. There are only three members of the department but it is mainly a supporting role that this department plays to the minister and the ministry, looking at proposals legislation, drafts and submitting comments to the minister. We have broad based support for anything our department does so it is not a one-man show," he added.
Should a national oil company be established, the Petroleum Directorate would have also helped in crafting policies and reviewing proposals.
'Vigilant all the time
Chuck-A-Sang sought to allay fears that he or anyone else who has worked with oil companies would participate in decision-making involving those entities. "The scope for conflict in my role is minimal to nil. When I joined the Ministry of Natural Resources, this was made clear in my CV, made clear to the minister, made clear to the ministry. They were very happy. It was part of the skill set that I brought there. Now, if there any issues to deal with that particular company, that would be flagged immediately and I will say this is not an issue. There are other persons in the ministry that will handle those. There are other persons coming to bring that experience from Exxon, Repsol wherever they worked, there is a similar scope for the conflicts you speak of …Once they declare they have those experiences, the ministry is aware and can manage it very effectively. It is also is a matter of integrity and integrity is a very big issue for myself," he added.
Chuck-A-Sang explained that not only does his position not open him to direct contact with companies—as the Petroleum Directorate is policy-driven—but he is also a man of integrity and anyone with evidence contrary to this was free to make those claims publicly. Nonetheless, he pointed out that he understands concerns would be raised even as he advised that persons entering the sector have to always be vigilant that they do not fall prey to companies' ploys.
"For those who know me personally, and know my family, that would be a very easy question to answer. I think you have to be vigilant all the time. I think it is something that everybody at the ministry is conscious of, you have to watch all the time because unwittingly companies will try under one guise or another to compromise your situation and you have to be very careful," he said.
"It is a constant battle, but I have never, never, ever, ever been involved with anything of such. The scope for it is very small where we are but it is a constant battle. Every day companies will think up of ways in which to somehow gain an advantage; you have to accept that but you have to walk away from that. You cannot let that affect you. You just have to put your head down and get the job done. We are lucky we don't have to deal with that on a day-to-day but you are right in that we have to be concerned about those things. I am very proud to serve my country and I will never ever sell my country out to any company, ever," he stressed.
He said that he understands that conflict of interest is a very important issue but that has to be balanced against the backdrop of government being in a position to take advantage of local content with the experience with such oil companies while guarding against falling prey.
"There are two aspects. There is the actual and there is an appearance. Both have to be addressed. I worked with the company that you mentioned and I was very happy to do so. It was an experience which thought me a lot and an experience which I draw on now for the quality of the decisions I make. It comes into a very important issue which is in capacity building and in local content. We have to be able to say that young persons like [me] should have the right to work and gain experience working in the industry for various oil companies. Once they have that experience, they must be supported as well in being able to work in the government. Now, conflicts arise if it is a part of the job that you are doing. The Ministry of Natural Resources deals with policy and especially my role. There is no aspect where I will be favouring one company over another," he asserted.
Pointing to the consultants hired by the ministry since the emergence of the petroleum sector, Chuck-A-Sang added that most would have worked or been affiliated with oil and gas companies that have interests here.
"All the consultants that work with the ministry and continue to work with the ministry, they have all worked for those companies, BP (British Petroleum), Exxon, Shell etcetera, and that would be to say that no expert in the world is qualified to work with the Government of Guyana because they might have worked with companies …The only difference is that I am Guyanese," he said.
He thinks that more Guyanese are needed as part of national capacity building in this emerging sector since they are more likely to have ties here. The Guyanese, he said, should not only aim to work for government but own businesses in the sector.
"If somebody served in those capacities and have those experiences, the important know-how in how to get things done, they have been in the trenches, been in the wars and now you are going to say they can't use that for the government in order to build. How does it ever work where you have a ministry that is only able to take novices that don't have no experience and they rely on this, year after year, afraid to take people who worked in the ministries? Where does that put us?" he questioned.
"It means that we would always be on the back foot all the time. We need to make sure that although conflict of interest is an important issue that it can be managed and managed effectively and has been all over the world very effectively. We want to have 75% of the Guyanese out there and you also want companies that are out there, you don't just want Guyanese working for companies, you want Guyanese to own the companies. If a Guyanese owns a company, you don't have a problem with local content he is automatically going to choose Guyanese businesses, Guyanese services. When he is training he is going to train twice as many Guyanese to do the job etcetera, etcetera. So those are important," he stressed.
Around the Web