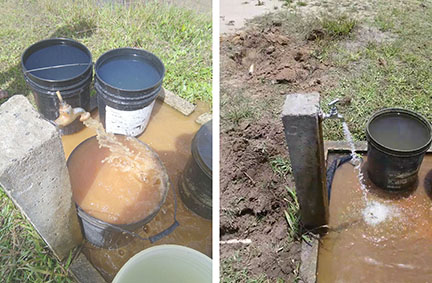 Following reports that some residents of Tapakuma, Region Two, have contracted Typhoid, the Guyana Water Incorporated (GWI) has intervened to test and disinfect the community's well.
A GWI statement last evening said the reports from the Community Health Centre indicated that some 10 to 15 persons have displayed symptoms of Typhoid, with the majority testing positive for the infection.
It noted that villagers reportedly practice rain water harvesting and dig their own ponds due to their reluctance to use water supplied by a shallow community well. The well, which was drilled by the regional administration, is supported by aged infrastructure and produces water with high iron content.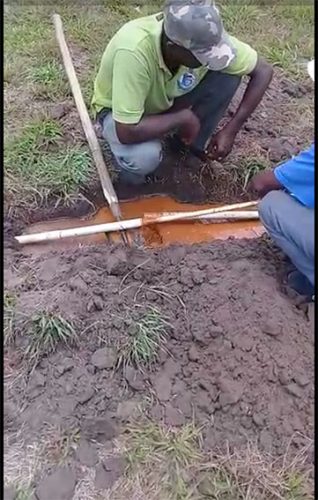 GWI said it has since taken up the mantle to remedy the situation. "We have found that the distribution network is made up of inappropriately sized pipelines that were run improperly more than four years ago with no flush out points. High levels of iron compounded the situation, causing incrustation and a reduction in the diameter of the pipes. This also resulted in persons at the end of the network receiving a low level of service," it explained.
It found too that the photovoltaic system that powers the system was also incorrectly installed.
It said efforts were made to upgrade the current network by installing flush out valves, disinfecting lines and reducing the iron content in the water by flushing and rodding out the lines where necessary.
The statement noted that two trestles, each bearing four tanks, were connected to the well.
It said GWI's Region Two workers managed to clean only one set of tanks, due to their inability to access the other trestle. The Toshao of the Tapakuma community committed to getting the others cleaned.
The statement added that the team also interconnected the line from the well to the outlet line from the overhead tanks, which helped with increasing the pressure to flush out the lines and ultimately improve the service level and water quality.
It said too that the Toshao was advised to ensure the tanks are cleaned every two to three months to maintain the improved water quality.
GWI also distributed brochures on how to disinfect the water by boiling and the recommended dosage of liquid bleach to add to water for household use.
GWI said it will monitor the water supply system in the community so that the residents can continue to enjoy improved water quality access.
Around the Web