Laurel Gittens has been confirmed as the first female Deputy Chief Constable (DCC) of the City Constabulary.
City Councillors last Monday unanimously agreed to promote Gittens to Senior Superintendent and confirmed her as DCC.
Gittens, who has been acting as the DCC since November, 2016, is the first woman to hold the position.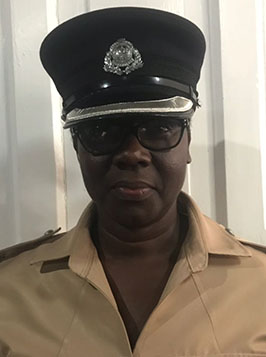 At Monday's statutory meeting, Councillors argued that she be allowed to take up the position without a probationary period, given her years of experience and the length of time she has been acting in the post.
Gittens' promotion came under the spotlight while the council was going through the report of the Legal Affairs Committee.  The committee recommended that Gittens be appointed to the post without a probationary period. It was argued that if Gittens goes through a probationary period of six months, it would lead into her pre-retirement leave. With this approaching, councillors were concerned that she will not receive all her benefits.
During discussions, it was disclosed that the Chief Constable Andrew Foo had recommended that Gittens be placed on probation before confirmation to the post. It was explained that Foo had concerns over her appointment. However, Council-lors argued that Gittens had acted in the position of DCC on several occasions and due to that fact she should be appointed.
APNU+AFC Councillor Carlyle Goring argued for Gittens' appointment, while noting that council had discussed the promotion in the past and no objections had been raised.
Fellow APNU+AFC Councillor Oscar Clarke, during the discussion, suggested that Gittens' appointment be made retroactive to November, 2016, to which the councillors agreed. After deliberations, Town Clerk Royston King informed the council that his administration had taken note of the decision and would follow through with it.
Gittens has served in the City Constabulary for 32 years.
She told Sunday Stabroek that she was elated to be appointed to the post and is ready to work. She noted that while the position is nothing new to her, she is prepared to give it her best.
Gittens related that she started at the constabulary as a junior constable and had worked her way up through the ranks. She noted that her journey has been a challenging one, but she was happy for the challenges since they had prepared her for the current position.
Around the Web