The  Health Authority in Region Six has launched an investigation after a Corentyne resident who was diagnosed with wind pain at the Port Mourant Hospital on April 8 had to undergo emergency intestinal surgery at the Georgetown Public Hospital the following day.
The patient, Oneil Jordan, 32, of Kiltairn Village, Corentyne was diagnosed with a Perforated Hollow Viscus (ruptured gastrointestinal wall) by doctors at the Georgetown Public Hospital (GPH) on April 9. Jordan is presently recovering in the Intensive Care Unit in a critical but stable condition, relatives said yesterday.
Director of Health Services, Region Six, Jevaughn Stephens yesterday told Stabroek News that an investigation was launched on Saturday. According to Stephens, no formal complaint was filed at the regional level. However, he could not confirm whether a complaint was filed at the Ministry of Public Health, as was the intention of the man's relatives.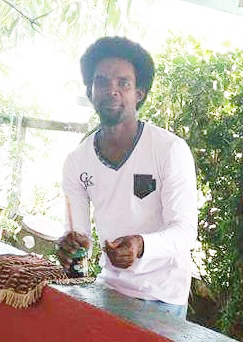 Jordan's sister, Malinda Burgess of Lot 65 Den Amstel Village, West Coast Demerara had explained to Stabroek News that on Sunday, April 8, she rushed to Berbice after she received a phone call about her brother's condition, from extended relatives in the Corentyne area.
She had said that she arrived on the Corentyne at around 8 pm and immediately took her brother, a father of two, to the Port Mourant Hospital, where they met a male doctor.
She recalled that her brother was vomiting profusely and complaining about a pain in his chest. "He tell the doctor how he chest hurting he inside out and he vomiting all the time," she recalled.
However, despite these symptoms, the doctor had only two questions for her brother; when last he had something to eat, and when last he consumed alcohol. Burgess had relayed that her brother informed the doctor that he hadn't eaten anything over a couple of days, since he would vomit everything he ate, and that he drank a small amount of alcohol during the Easter holidays.
"The doctor then call the nurse to give him an injection for the pain and two pink tablets and he (the doctor) tell me take him home and give him something hot to eat, he have wind," she recalled, while adding, "He didn't even touch my brother or run any test and check his vitals".
The woman had stressed that she believes that based on her brother's appearance the doctor made an assumption, rather than running the relevant tests and performing a proper diagnosis of her brother. "Even if mad people or drunkie go to the hospital they supposed to be looked after, my brother wasn't none", she had said.
Burgess then decided to rush her brother to the GPH since she realized that his condition was deteriorating. Upon arriving at the GPH during the wee hours of April 9, doctors immediately conducted several tests and determined that Jordan had to undergo an emergency surgery.
His sister yesterday told this newspaper that she wished to thank the doctors and nurses at the city hospital for doing their job to the best of their ability. "I would like to thank the nurses and doctors at the GPH who worked round the clock to help save my brother and are still doing so", she noted.
Burgess also stressed that she will be following up on her complaint which she made at the Ministry of Public Health, since she said that no health official from the region or the ministry had yet made contact with her.
Around the Web