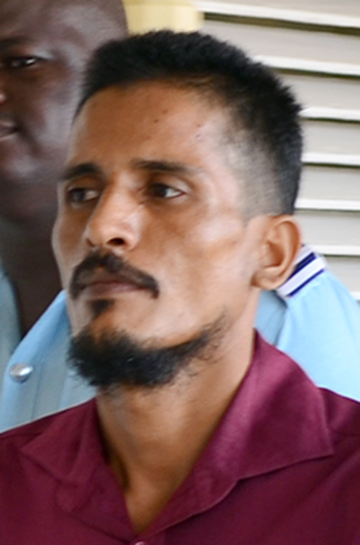 Lakeraj Fredericks, who was last year sentenced to 65 years in prison for the murder of his brother-in-law, was yesterday handed an additional 22-year sentence for the unlawful killing of another man.
Fredericks, 38, was indicted for the murder of Vernon Romaldo, to which he pleaded not guilty, but he, however, admitted guilt to the lesser count of manslaughter, accepting that he killed Romaldo on the night of June 11th, 2011, at Land of Canaan, East Bank Demerara.
The prosecution's case, which Fredericks did not deny, was that he, Romaldo and another man were drinking at the home of Romaldo's sister. Fredericks and Romaldo were heard arguing and later the latter was found lying in the chair with a stab wound to the left side of his chest.
Romaldo was subsequently rushed to a hospital, where he was pronounced dead on arrival.
Prosecutor Lisa Cave said that an autopsy revealed that he died from perforation of the kidneys, stomach and spleen due to two stab wounds to the abdomen.
In his address to the court, an apologetic Fredericks said that he was drunk and really could not say what exactly transpired, nor did he have any recollection of the fatal stabbing.
Accepting, however, what he described as the consequences of his drunken actions, the man said that he was "very sorry" for what had happened, before adding that, "it was not my choice."
"I sorry bad fuh wah eva happen," the prisoner stressed, even as he begged Romaldo's tearful family to forgive him.
Stating that he had changed his life since his incarceration, Fredericks begged Justice Sandil Kissoon for mercy. According to him, he has stopped drinking and he has stopped smoking marijuana.
Quoting the Holy Bible at 1 John 1:9, Fredericks in his plea for mercy told the judge, "'If we confess our sins, he is faithful and just to forgive us.'"
Meanwhile, Fredericks' attorney, Maxwell McKay, begged the judge to consider his client's early plea, which he said would have saved the court considerable time in otherwise having to conduct a trial.
In his plea in mitigation, the lawyer also told the judge that Fredericks is a model prisoner.
For her part, however, Prosecutor Cave noted that whatever sentence was to be imposed, should serve as a deterrent to both Fredericks and potential offenders.
She also said that the sentence needed to serve as a caution to persons who drink to be aware of the effects of alcohol consumption.
Though cautioning that Fredericks' prior conviction for murder was a separate and distinct case, in which a jury of his peers had found him guilty, Justice Kissoon nonetheless pointed out that the offence had been committed a mere seven days before the killing of Romaldo.
The judge said that he was "deeply troubled" by that fact, while noting that he found Fredericks' action not to have been an isolated incident as there was some measure of "calculation and premeditation."
The judge commenced Fredericks' sentence at a base of 30 years, which he explained is the maximum for guilty pleas to manslaughter. From that he deducted 12 years—six years for Fredericks' plea and an additional six for time spent on remand for his first offence for which he was convicted last year.
From the remaining 18 years, two years were subtracted for McKay's plea in mitigation and the prisoner's expression of remorse.
To the remaining 16 years, however, the judge added six years for aggravating factors and antecedents.
On May 8th, last year, Fredericks was sentenced to 65 years by Justice Navindra Singh after a jury found him guilty of murdering his brother-in-law, Clifton Bonus, whom he fatally shot at a farm in Linden in 2011.
He had shot the man sometime between June 1st and June 8th of that year.
According to a caution statement which was admitted into evidence at that trial, Fredericks told the police that after an argument on a farm where he planted marijuana, a person he identified as "Ronald" handed him a gun to shoot Bonus, which he did. He said Bonus did not die. The statement detailed that Fredericks then handed the gun back to "Ronald," who in turn shot Bonus to the head, killing him. "Ronald" and the convict then dug a 2½ ft. shallow grave at the back of the old airstrip at Linden and buried Bonus' body.
Around the Web